The following are miscellaneous sun, shade, solar and solar energy facts and comments. They were derived from our twitter feed @SunPosition
Our monthly sunrise/sunset tables have been posted | http://t.co/2Wx3IWtSkV
---
Thank you @blogto for shout out about Air India Memorial > 10 secret things you might not know existed in Toronto | BlogTO
TORONTO, ON - There are few truly secret places in a city the size of Toronto, but we nevertheless remain fascinated by that which is under the radar, under appreciated or just out of plain sight. Such is the case with this list. Toronotophiles might not find many surprises here, but those whose interest in the city's history and streetscape is more passive, will likely discover a host of intriguing new things to explore. Even as we have published similar lists in the past, the city is continually revealing itself, and it remains impossible to exhaust its various hidden pleasures in but a few posts.
Here are 10 "secret" things that you might not know existed in Toronto…
more - http://t.co/PrY7eaeCxn
---
Sunset in Toronto on Thanksgiving Weekend is about 6:39 pm.
---
Halloween sunset times for select Canadian and US cities - https://t.co/lQXwkkKoWs
---
Torontohenge is coming up on October 25th
TORONTO, ON - On October 25, 2014, the sun sets in line with Toronto's major east-west streets offering photographers a great opportunity to capture the sun as it perches on the horizon between the canyon walls of buildings on either side of the street. Sunset is at 6:18 pm EDT.
Although Torontohenge technically falls on October 25th, great photos can be taken in the days leading up to the 25th as the sun hovers directly above the street prior to sunset.
The photo below is a rendering showing the time and position of the sun (approx.) when it is in line with east-west streets between October 15th and 25th. As you can see, there are lots of opportunities for great shots shortly after 6 pm…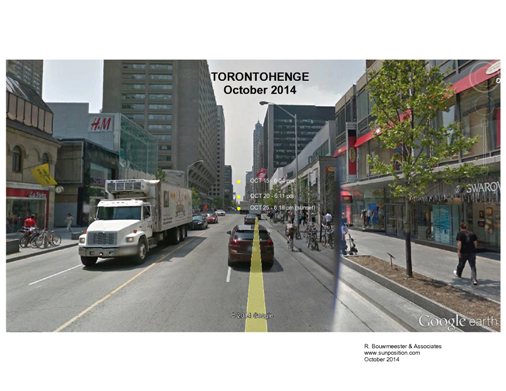 more - http://t.co/kUwnmXEdDB
---
Viewing times for Torontohenge October 2014 - http://t.co/kUwnmXEdDB http://t.co/peYNUt1ZXq
---
Are you ready for Torontohenge this week? - http://t.co/HJRSL6xIYP
---
How to Take Great Photographs of the October 23rd Partial Solar Eclipse and More | Universe Today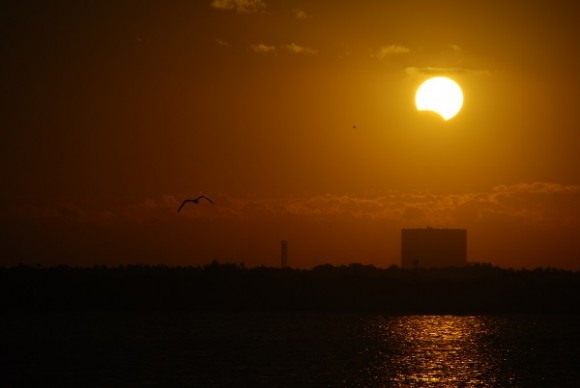 Get those solar viewers out… the final eclipse of 2014 occurs this Thursday on October 23rd, and most of North America has a front row seat. Though this solar eclipse will be an exclusively partial one as the Moon takes a 'bite' out the disk of the Sun, such an event is always fascinating to witness. And for viewers across the central U.S. and Canada, it will also provide the chance to photograph the setting crescent Sun along with foreground objects…
more - http://t.co/TuWHzFiRBQ
---
Tulane Students Upcycle Traffic Signs into Shade Canopy via @archdaily
TULANE, LA - Tulane City Center and a team of Tulane architecture students worked together with the Lousiana Outdoor Outreach Program to design a shade structure made from traffic yield signs for a challenge course in City Park. Drawing inspiration from the surrounding tree canopy and the structure of the ropes course, the design team crafted a faceted, curving aluminum canopy suspended by steel cables with an earthen berm for seating below…
more - http://t.co/smiLgqBwgz
---
Possibility of Torontohenge combined with Solar Eclipse tonight (Oct 23) just before sunset in Toronto
---
Toronto Halloween sunset 6:10pm. Other locations here > http://t.co/97GViJcWKC
---
Ottawa Halloween sunset 5:51pm. Other locations here > http://t.co/97GViJcWKC
---
Latest sunrise of the year in Toronto this Saturday, Nov 1st - 7:53 am.
---
Drivers and parents: Barrie Halloween sunset at 6:09pm.
---
Latest sunrise of the year in Barrie this Saturday, Nov 1st - 7:56 am.
---
Sunrise is later now than in the dead of winter.
Cheers, Ralph