The following relate to urban development and urban design in general, and to specific projects with sun/shade issues in particular. They were derived from our twitter feed @SunPosition
Seattle Wants to Change the Whole Conversation on Streetcars | CityLab
SEATTLE, WA - The city is currently planning a new leg of its burgeoning streetcar system, called the Center City Connector, that will run in its own exclusive lane. It could be the first real test case to show whether the new North American streetcar can actually be a useful part of a city's transportation system, and not just a development tool with questionable mobility value…
more - http://t.co/lRmNrZyKdM
---
London planners to ask council to approve high-rise on health unit lands via @metrotoronto
LONDON, ON - Planners at the City of London have given an endorsement to plans for a new tower downtown.
If council agrees, it will mean the Middlesex-London Health Unit building at the corner of Ridout Street and King Street will be replaced by a 95-metre high-rise for commercial, office and residential use.
It will also be a big part of the revitalization of the core, chief city planner John Fleming said Wednesday, close to the historic courthouse building and carefully designed to create a new link to the Forks of the Thames…
more - http://t.co/ePpsCbIM9E
---
Do you need to know how much sun your Toronto condo gets throughout the year?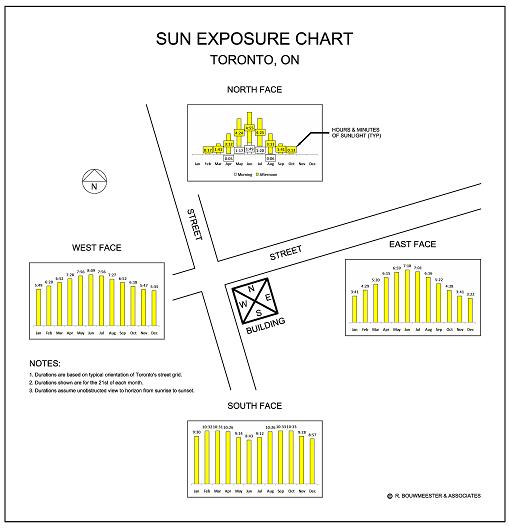 Sun Exposure Chart - http://t.co/4ZgP1Qat63
---
Melbourne's proliferating high-rise towers need to be planned carefully | The Age
MELBOURNE, AUS - Melbourne's proliferating high-rise towers need to be planned carefully to avoid damaging the city's laneway culture, one of Chicago's highest-profile modern-day architects Jeanne Gang says…
She praised the fact that the city's high-rise towers appeared to be clustered together, rather than uniformly spread out over the CBD – "different districts have different characters" – but also said it was crucial for the proliferating multi-residential towers to incorporate the city's laneways into their footprints.
"The tall buildings that are being planned should pay attention to the vibrancy of the laneway pattern and incorporate it," she said. "It would be terrible if we lost that quality."
Rules protecting the wider environment also need, however, to be able to give developers the ability to be creative and make a return, she said. In New York, Gang designed Solar Carve, a 17-storey commercial building adjacent to the High Line, a linear park built on top of a disused railway line.
To prevent the trunk of the building throwing a large section of the High Line into shadow – even though planning regulations would have permitted it – Gang shaved off one side of the building, so it rises up from the ground outwards, to increase the sunlight falling onto the park.
In planning a building that reduced the floor area of the tower at lower levels, they were able to convince planning authorities to let the building go higher than it could otherwise as an offset, Gang said.
A tall building, she said, is "vertical infrastructure" for a city and needed to be given as much consideration as any other infrastructure...
more - http://t.co/sZ9zcxYMZ4
---
Will Gary Barnett Bring a Third Skyscraper Shadow to Central Park? - Businessweek via @BW
NEW YORK, NY - It appears that prolific New York developer Gary Barnett is planning another supertall, skinny tower on 57th Street in Manhattan. The Wall Street Journal reports that Extell Development, Barnett's firm, is in negotiations to purchase a site owned by Calvary Baptist Church on the same block as Extell's 1,004-foot One57…
more - http://t.co/bSZVSbVOEY
---
Shadow impacts one concern > Property owners sue New Haven, developer over zoning changes | New Haven Register
NEW HAVEN, CT - Owners of a competing property are suing developers of a proposed apartment complex in Wooster Square as well as the city over a zone change and amendment that could delay construction for months, and maybe longer.
The City Plan Commission and the Board of Aldermen approved the changes as a way to provide a transition area from downtown to residential Wooster Square.
The suit is being brought by the owners of the Strouse Adler "Smoothie" building at 78 Olive St., that was converted to apartments decades ago, one of the first to take an iconic part of New Haven's industrial past and bring it alive with a new use…
more - http://t.co/YEEUDvrWwC
---
Make the most of a fading resource : light | Toronto Star
Seasonal affective disorder (SAD) is a very real condition often described as a type of depression related to seasonal — and light — changes.
I'm not pretending to be a scientist or a mental health expert. But one thing we can all agree on is that when the sun is shining, we tend to feel better. It's obvious that our environment plays a major role in our physical and emotional well-being.
Exposure to sunlight, as well as our food intake, contributes to our bodies' levels of vitamin D — which helps us absorb of calcium, iron, magnesium, phosphate and zinc. Natural light goes a long way to improving our disposition, health and also productivity…
Integrating natural light is one of the most beneficial, and cost effective, ways in which you can improve your workspace. Not only will you save on utility bills, but also natural light will enhance your frame of mind, reduce eyestrain and heighten your efficiency.
If you're considering renovating and want to repurpose an unused space (perhaps an attic) for an additional bedroom, reading area or studio, you'll want to add natural light. In small rooms you don't want to lose valuable wall space so skylights are one of the most straightforward solutions.
Skylights provide up to twice as much natural light as vertical windows and three times as much as dormer windows. Furthermore, because of their angle to the sun, skylights can provide natural light deeper into the centre of a home if well-designed…
more - http://t.co/JMFQBW66wV
---
Living in the Noisy Shadow of a Mega Development Project | New York Observer
NEW YORK, NY - New York's tallest sliver – the skinny condo shooting up at 432 Park Avenue – recently topped out at 1,396 feet, making it the highest residential edifice in the Western hemisphere (to distinguish it from gravity-defying high-rises in Dubai, Malaysia, Abu Dhabi and other Eastern hubs)...
more - http://t.co/h7oT6s4vza
---
The shadow of The Shard, western Europe's tallest building, is cast over buildings lining the Thames in London | Yahoo.com
more - https://t.co/aRkoMWnH17
---
Mining Tax Data to Map the Past and Future of Urban Development in New York | Hyperallergic
NEW YORK, NY - Last year, the City of New York released a huge trove of tax data to the public. Called Property Land Use Tax Lot Output (PLUTO), the information might not seem terribly thrilling, a dry assortment of building dates, square footage, and property value, but for those looking to map the city's history and potential future it is an incredible resource.
Urban Layers, showing the Cooper Union Foundation Building in red and newest buildings in blue (screenshot by the author)
Now several projects are utilizing PLUTO to experiment with visualizing the development of New York City. One of the most recent is called Urban Layers. Created by the architectural practice Morphocode, it merges the PLUTO data with NYC building footprints to create an interactive map of the development of buildings in Manhattan (along with Governors, Randalls, and Roosevelt islands) going back to 1765…
more - http://t.co/u72PfamJuK
---
Councillor hoping to talk things out with those for and against Inglewood condo development | 660News
CALGARY, AB - The city councillor for Inglewood is hoping to clear up some misconceptions about a luxury condo project facing stiff opposition from residents.
Ward 9′s Gian-Carlo Carra says it's a misnomer to call it a tower since the proposed 22.5 metre high building is only eight feet off from what's allowed in an existing by-law.
He says a letter distributed by the Inglewood Community Association inaccurately claimed he was not supporting them, when in fact, Carra hasn't made his mind up about the development.
Carra said the letter also suggested shadowing from the structure would be a massive issue.
'What the proponent has proven is that the 22.5 metre building that they are proposing will shadow the backyards of the homes on 8th Ave. across the alley, no more than the 20-metre building that they are allowed to build today," he said…
more - http://t.co/sqtdnnJ7Qb
---
Too tall for Inglewood? Proposed Calgary condo concerns neighbours via @CTVCalgary
CALGARY, AB - A proposed 9 Ave. S.E. condominium complex has some Inglewood residents worried the project could cast an unfavourable shadow on the neighbourhood.
If approved, Avli on Atlantic will be the tallest building in the area and the 22.5 metre structure will exceed the Inglewood Development Plan's current maximum height allowance.
Developers are asking Calgary City Council to grant an easement allowing for the condo building to be erected as planned, eclipsing the 20 metre height limit.
Some people who live in the shadow of the proposed building fear a height allowance exception could lead to further development…
more - http://t.co/2ahiJrXkjR
Cheers, Ralph