The following are miscellaneous sun, shade, solar and solar energy facts and comments. They were derived from our twitter feed @SunPosition
Our monthly sunrise/sunset tables have been updated
http://www.sunposition.com/tables.html
---
Sunrise/sunset times for the Toronto2015 PanAm Games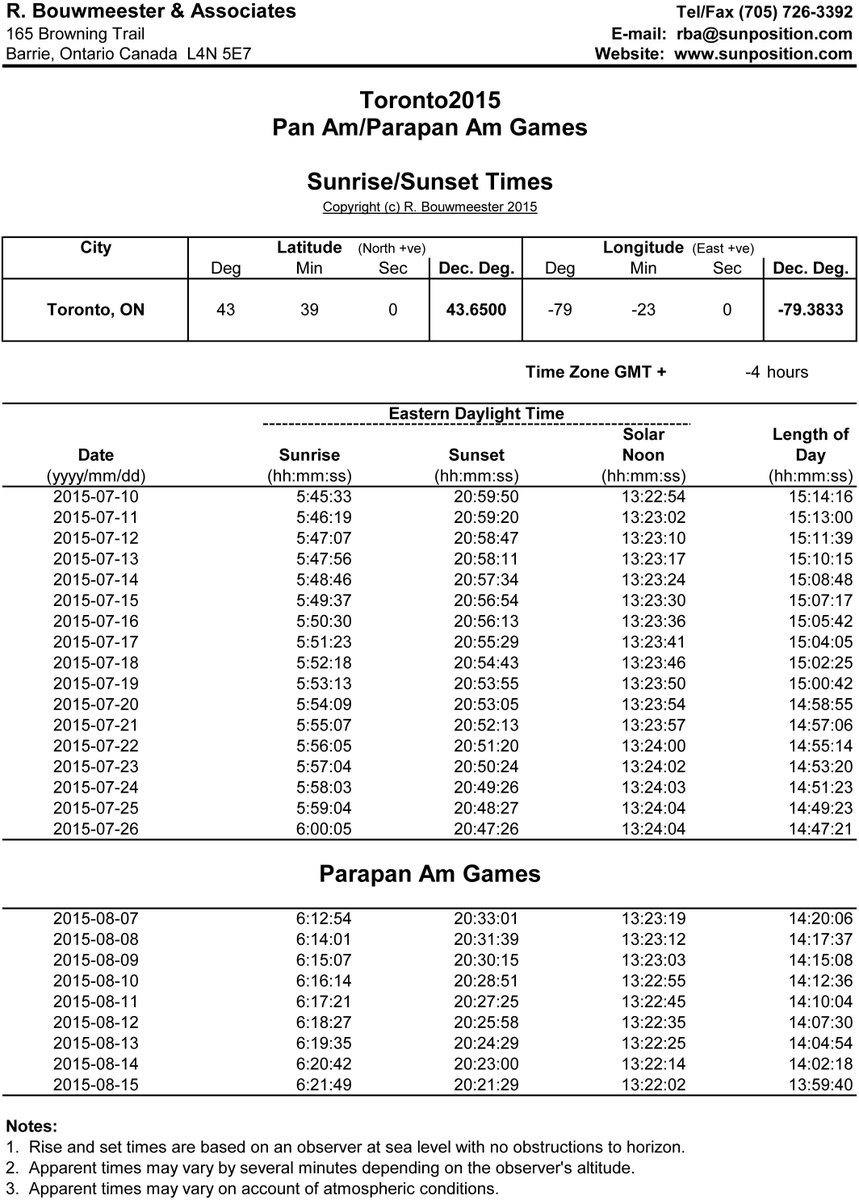 more - http://t.co/yQ78nPtsZO
---
Nipissing feels solar proposal glare | North Bay Nipissing News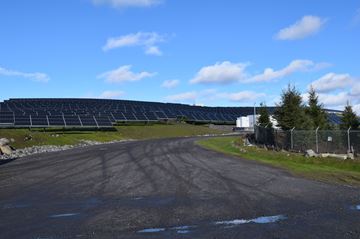 NIPISSING, ON – One more municipality is finding itself in the sun.
Magnificent Light Solar is looking to set up a 5 MW solar park in Nipissing Township on Marion Drive…
Nipissing Mayor Pat Haufe says the solar development is new to him.
"We had a presentation from Sky Power [Magnificent Light's parent company] on January 20 and all they did that day was come out and say 'here's what's on our horizon, here's what we're thinking about,'" Haufe told the News Thursday.
"Since then we've received nothing from them until this afternoon." …
As for the community reaction, Haufe isn't sure what to expect.
"There are residences around the lake, very few along Marion Drive, but as you get to the end of it and turn onto the lakeshore part of it there are many summer cottages and some people who live there year round," Haufe says.
"We trust they have been told about this meeting."
While proposed solar projects are popping up all across the region — Ryerson and Strong Townships most recently have been fielding requests for support — this is the first so far for Nipissing.
"The solar thing is new to us," Haufe says.
"This is our first visit from anyone with solar farms on their radar, so other than the presentation that night we don't have much information. It's still very tentative." …
more - http://t.co/DYMcejTZLz
---
Residents celebrate after glaring solar panels taken down in Ailsworth
Residents brought out champagne after housing association Cross Keys Homes agreed to take down the panels from the roof of resident Ged Moore in Main Street.
Mr Moore's neighbour Anita Ribbons had been fighting to get the panels removed after complaining that the glare from them was so bright that her 12-year-old son could not do his homework and was suffering ill health.
Residents came together on Monday (June 29) to toast having the solar panels removed.
Ms Ribbons said: "It is a huge relief to us the Ribbons family that the glare caused by low sun will no longer be an issue in our son's bedroom just six metres from the panels."…
more - http://t.co/K3WPCTzHEa
---
Not only is the weather beautiful for our southern friends at the Toronto2015 PanAm Games in Toronto, longer daylight too.
Toronto has 1.5 hrs more daylight than Miami during the Toronto2015 PanAm Games, 2 more than San Juan, 4 more than Sao Paulo. Enjoy.
---
Cool, the sundial we designed for the Air India Memorial in Humber Bay Park East is included in the list >
10 secret things you might not know existed in Toronto | blogTO
Air India Memorial
Hidden just to the west of the mouth of the Humber River, the austere Air India Memorial can be one of the most tranquil places in the city. I first happened upon it on a rainy bike ride. When I arrived, the rain had just subsided and a peculiar silence fell around me. It was both completely fitting and emotionally profound. The memorial features a sundial pointed at Ahakista, Ireland, where the plane went down as well as the names of the 329 victims on board.
more - http://t.co/8U9t3VD75a
---
Cheers, Ralph