The following are miscellaneous sun, shade, solar and solar energy facts and comments. They were derived from our twitter feed @SunPosition
Our monthly sunrise/sunset tables have been updated
http://www.sunposition.com/tables.html
---
UV peaks in Toronto this Civic Holiday long weekend at 1:24 pm.
---
Toronto2015 sunrise/sunset times. Parapan Am Games TO2015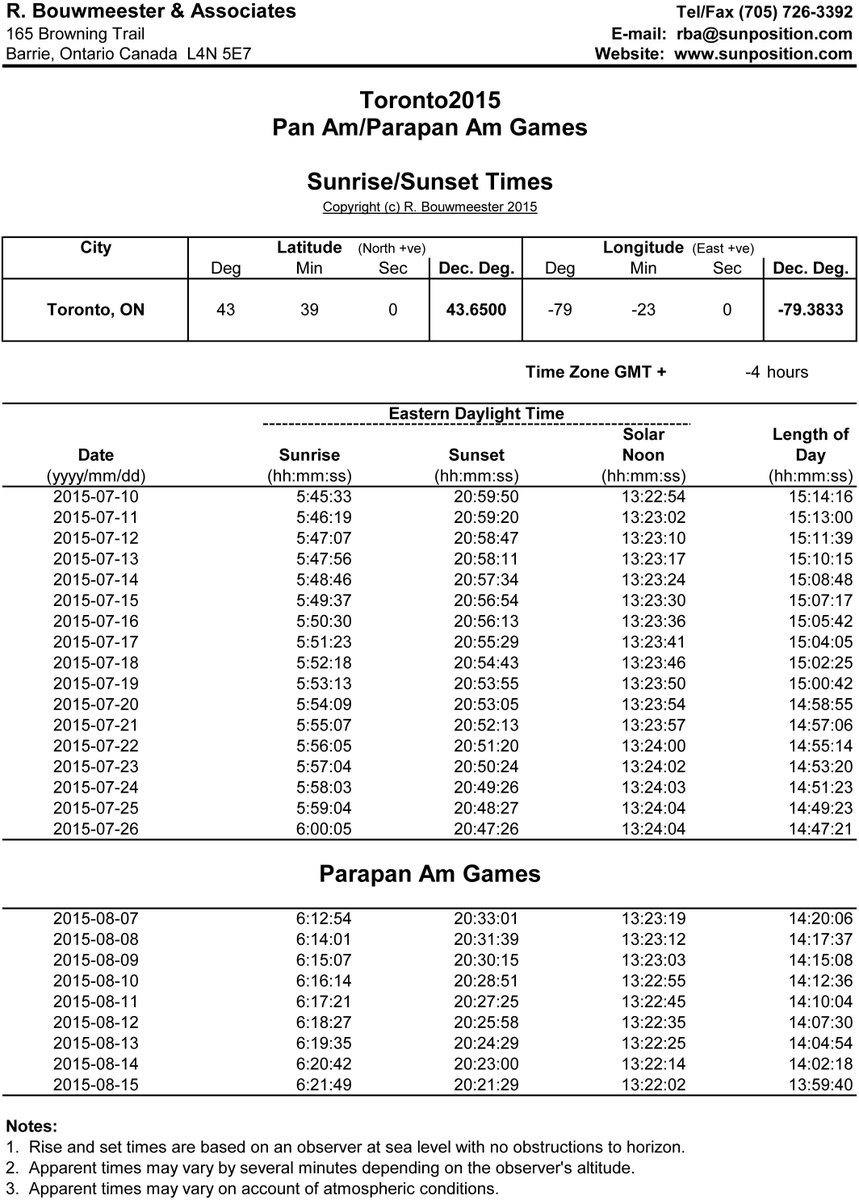 more - http://t.co/yQ78nPtsZO
---
Thank you sun for helping Blue Jays today. Ball lost in sun by NYY gave Jays the game. Gotta love it.
---
Torontohenge Monday Aug 24. Watch the sun rise in line with Toronto e/w streets at 6:32 AM.
---
LA Angels victimized by "sun balls" twice in one game >
Cleveland Indians ride two sun balls, Abraham Almonte grand slam to sweep of L.A. Angels: DMan's Report, Game 129 | Cleveland.com
Carlos Santana went 3-for-4 with two sun-aided doubles and Abraham Almonte hit a grand slam as the Cleveland Indians defeated the Los Angeles Angels, 9-2, Sunday afternoon at Progressive Field…
The Land of the blinding sun: Who could have guessed that California's Angels would be victimized by the sun not once, but twice, in supposedly perpetually overcast Cleveland?
Jason Kipnis led off the first inning with a double to right. After Francisco Lindor's sacrifice bunt, Brantley ripped an RBI double into the right-field corner (1-2 curve down and in/75 mph).
Brantley became the 10th player in franchise history with back-to-back seasons of 40+ doubles, the first since Travis Hafner in 2004-2005.
Carlos Santana, in a full count, sent one of his patented high-trajectory flies to the outfield. Trout was in position for a routine catch but lost track of the ball, which fell nearby for what reads in the box score as an RBI double for Santana…
With none on and one out in the fifth, Brantley lined a full-count curve (65) to center for a single. Santana hit the first pitch high to right, where Kole Calhoun encountered the same glare issues as Trout. Brantley, who had been moving with the pitch, began to retreat to first, then changed direction again and reached third. Santana happily accepted his second gift double -- no apologies necessary.
more - http://t.co/vQn42W9VV8
---
Cheers, Ralph