The following are miscellaneous sun, shade, solar and solar energy facts and comments. They were derived from our twitter feed @SunPosition
---
Our monthly sunrise/sunset tables have been updated.
http://www.sunposition.com/tables.html
---
Global Solar Council Launched at COP 21
The GSC strives to convey 3 Key Messages about solar power:
Solar power is already one of the cheapest forms of electricity globally and prices continue to decline fast. The levelised cost of solar electricity is 80% lower than it was during COP-15 in 2009. Solar provides a cost-effective means of fighting climate change today.
Solar power is the most versatile form of electricity generation and can be deployed anywhere in the world for the people of developing and developed countries alike. Solar also has the highest share of popular support of any electricity technology.
To avoid a greater than 2 ºC increase in global temperatures, it is imperative to strongly accelerate the deployment of solar power. A 10% share of global power generation by 2030, from less than 1% today, is possible given the right market conditions…
---
RT The Weather Network ?@weathernetwork 21 Dec 2015 Welcome Winter Solstice! How will you make the most of the shortest day of the year?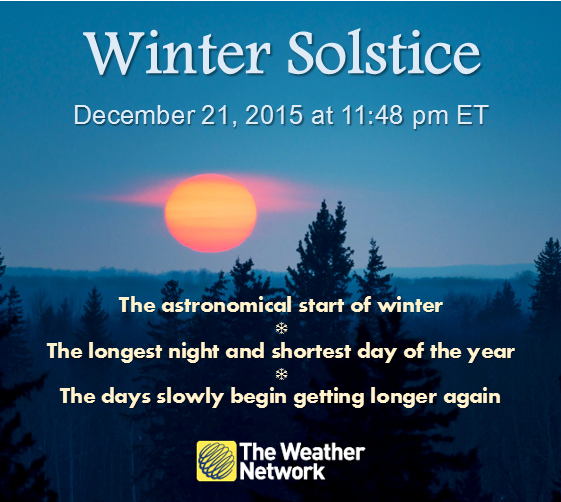 https://pbs.twimg.com/media/CWxtvPLWcAAo649.png
---
It may be the first day of winter, but the days start getting longer now. Nice!
---
Today (December 21) may be the shortest day of the year, but the latest sunrise in Toronto won't occur for another 2 weeks, on Jan 3rd.
---
Discover the 15 coolest maps of 2015 via @buzzbuzzhome
e.g. Earth's changing seasons.
---
Toronto shadows at high noon are 6.4x longer now (December 21) than they were in June.
---
Everything You Need to Know About the Winter Solstice

via @NatGeo
The Northern Hemisphere's procession of dwindling days is about to reach its nadir. The winter solstice is the year's shortest day, but the start of winter also launches the sun's steady climb towards the long, warm days of summer.
The solstice occurs on Tuesday, December 22 at 4:48 UTC—that's late Monday night across most of North America. It happens at the same moment no matter where you live, but because we've divided Earth into 24 times zones people around the world observe it at 24 different times of day.
Why does the solstice occur anyway, and how have people observed it through history?
Follow link below for everything you need to know about the December solstice.
---
Cheers, Ralph