The following relate to the dangers of sun glare while driving, and traffic safety in general. They were derived from our twitter feed @SunPosition
---
Read our weekly news summary "Sun Glare and Driving" at:
http://paper.li/SunPosition/1376354290
---
Know your vehicle. Not all have automatic headlights. Hazardous to drive at night with only DRLs and no tail lights.

---
RT Traffic Scotland @trafficscotland: In low sun glare ? pedestrians & cyclists can be more difficult to see. Be Aware of this & keep your windscreen clean.


---
Catastrophic Injury Awards Affirmed for Worker in Roadway Accident | New York Injury Cases Blog
A landscaper had parked his truck and trailer on a street and was unloading lawn mowing equipment when he was hit by a car. He was pinned between the car and trailer and lost one of his legs as a result. The driver blamed sun glare.
The link below summarizes the decisions of the court and appellate court.
---
AAA warns drivers about dangers of sun glare | WGME - Portland ME
AAA is reminding people of the hazards of sun glare after two recent crashes.
A woman died after a car crashed into a hayride wagon, and a car slammed into the back of a school bus – both caused by sun-blinded drivers.
This time of year is especially bad since the sun sets during the evening commute. Glare can be made worse with the buildup of snow, salt and sand on the windshield.

Simple remedies include having a good pair of sunglasses (polarized), using the sun visor, giving yourself more room and slowing down. You can also change your route or leave at a slightly different time to avoid the worst sun glare conditions.
---
Sun Glare Leads to Multiple Crashes in New Hampshire | NECN
There were 5 separate crashes caused by sun glare just before 9 am one morning. The first crash involved five vehicles, the second crash involved three vehicles and crashes three, four and five involved two vehicles.
---
Simi Valley crash that injures pedestrian blamed on sun glare | The VC Star
A pedestrian was hit by a car at about 7:30 am by a driver who blamed sun glare.
Remember that sunlight or windshield moisture on cold mornings can obstruct views. Police recommend drivers use sunglasses and visors to improve visibility.
---
Rail operator Southeastern blames 'bright sunlight' for delays | @Se_Railway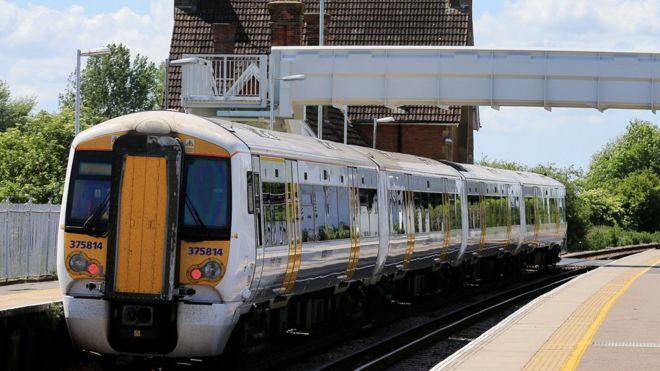 Train delays were caused by "strong sunlight". Passengers angry.
The angle of the sun made it difficult for drivers to see the side of the trains in their mirrors before leaving stations in south-east London. This meant they had to get off the train to make sure all passengers were clear. Safety first.
Rail operator @Se_Railway blames 'bright sunlight' for delays https://t.co/ZbsiVT4n9N
> Curious whether the @Se_Railway sunlight issue was with CCTV monitors or mirrors... @BBCLondonNews

> RT Southeastern @Se_Railway: @SunPosition The sun caused glare on the CCTV monitors, the driver had to take extra steps to ensure he was dispatched safely.

> @Se_Railway Certainly reasonable. Forward-facing cameras mounted at rear of train would help, no?
---
Great tips >
Keep the shades handy - here's how to avoid driving accidents from winter sun glare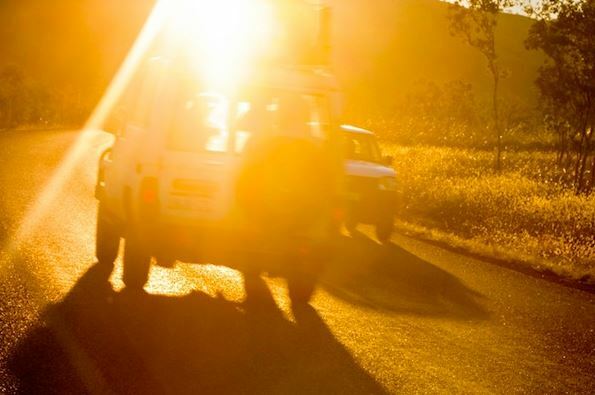 The Mayo County Council suggests the following:
"Use polarized sunglasses that can help prevent glare.
Delay driving times to occur before or after sunrise or sunset.
Don't use high-gloss products on the dashboard, which can contribute to extra glare.
Keep the inside and outside of the windshield clean.
Make use of sun visors.
If glare is a problem, leave extra space between your car and others in the event of sudden stopping or other road hazards.
Drive slowly and be mindful of obstructions.
Try taking another route that goes in a different direction than the one from which the sun is shining.
Leave extra time so that you don't feel rushed getting to your destination.
Eye exams or surgery can make eyes more sensitive to the sunlight.
Avoid driving after these appointments."
---
RT Jean Paul Velez @jpvelez78: For every meter increase in road width, pedestrian fatality risk increases by 6% @Benj_WDC @WRIcities

---
How to Make Cities Safer by Design | via @WRIcities
Over 1.2 million people die from traffic crashes each year. By 2030 this will be the world's fifth-largest cause of death unless road safety is improved.
Sao Paulo, more than 1,300 people per year.
Delhi, more than 1,500.
While road users have historically been to blame, the responsibility also rests with designers and politicians.
A new WRI report, Cities Safer by Design, shows how basic design principles can save lives on urban streets.
---
Warning to drivers about dangers of low winter sun | Independent.ie
Low winter sun can cause temporary blindness and is believed to be the cause of a number of fatalities every year, e.g. pedestrians killed while walking dog, cycling, etc.
Even though juries sometimes find the cause to be accidental, such tragic deaths can be prevented if drivers, pedestrians and cyclists realised how lethal the sun can be at this time of year, especially with snow and ice on the roads.
---
Watch for ice on roads as temps "plunge like a Mexican tour bus".

---
Sun glare is a hazard for all drivers, at times leading to serious car crashes | @HoffmannLawFirm
Sun glare can contribute to crashes in any number of ways as explained in this article (see link below).
"A driver is unable to see a traffic light or stop sign and collides with another motor vehicle in the intersection. At high speeds, these accidents can be fatal.
A driver is unable to see the lane position or the road itself and may drift from the lane. This could cause a side sweep accident or a head-on collision.
Sun glare can make it difficult for a driver to see other cars on the road, leading to blind spot accidents.
Sun glare affects a driver's ability to see the tail lights of the vehicle in front, leading to a rear-end collision when the lead vehicle comes to a stop or slows down.
A driver fails to notice oncoming traffic and makes a left turn.
A driver fails to see pedestrians or bicyclists at an intersection."
In addition, the worst sun glare conditions occur during the busiest times – during the morning and evening commutes.
---
RT Tracy Wallace @TracyYHFS: Watertown, MA Sun glare covers the 16 wheeler backing into a lot in front of me.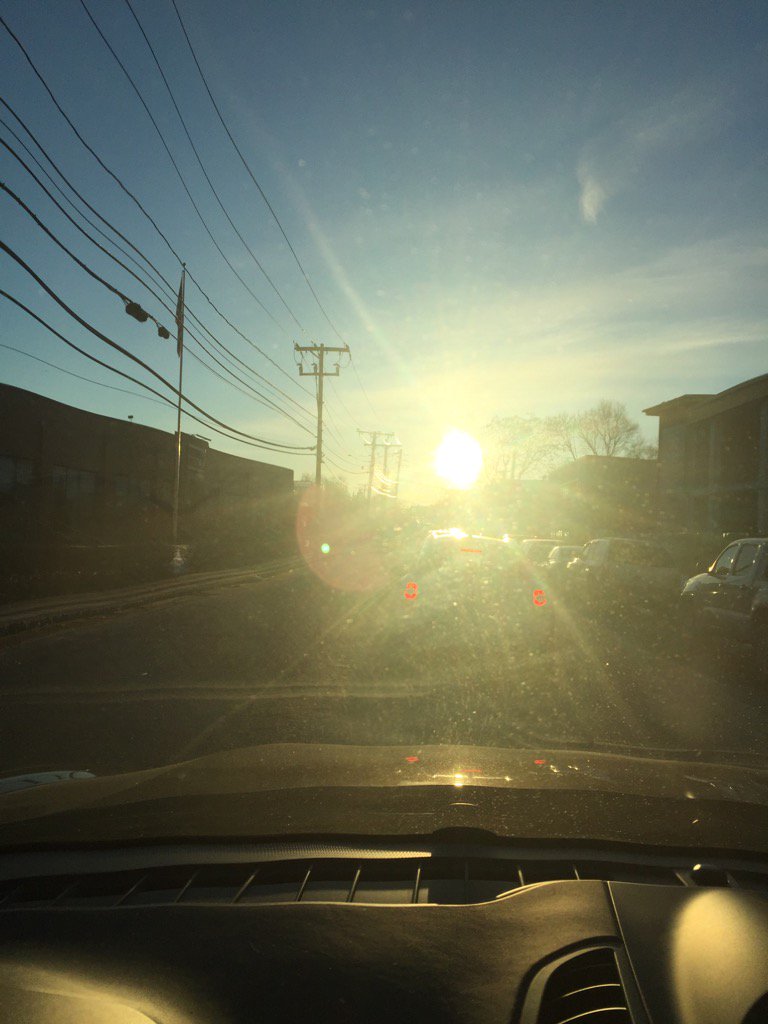 What 16-wheeler?!?
https://twitter.com/TracyYHFS/status/690154876324704261


---
RT Christine Dempsey @ChristineDempse: Sun glare was a factor in a fatal crash involving a van and a parked tanker truck in Bristol, police said.
---
Sun glare + no helmet >
Report released into cyclist's death | Vernon Morning Star via @BlackPressMedia
A Coroner ruled the death of a cyclist, not wearing a helmet and struck by a sun-blind driver, as accidental.
The crash occured shortly before 6:30 a.m. Sun glare and the lack of a helmet were both contributory factors.
---
Due to sun glare >
34-year-old Northampton woman injured in pedestrian crash in post office parking lot
Early morning sun can cause problems even at low speeds.
---
Warning to drivers as 'sun glare' linked to five deaths over two years (via @thejournal_ie)
Sun glare "may have been a contributory factor in five road fatalities and nine serious injuries between 2014 and 2015". Low sun can be especially problematic when combined with dirty windshields or wet roads. And low sun typically coincides with commuting times.
---
Great safety initiative by @Team_FRM and @Chris_Buescher >
RT @JerryBonkowski: Buescher, Front Row Motorsports renew railroad safety initiative
---
Sun partly to blame for crash in McCracken County | KFVS News
Sun glare was a contributory factor as vehicle rolls off shoulder and flips.
---
Sun Glare a factor in Clare road traffic incidents | via @theclareherald
The Road Safety Authority is reminding drivers of the dangers of sun glare which can result in tempoary blindness.
"The appeal comes as provisional crash reports indicate that drivers being temporarily blinded by 'sun glare' may have been a contributory factor in five fatalities and nine serious injuries between 2014 and 2015."
And at this time of year wet or snow-covered roads can add to the glare.
---
Cheers, Ralph