The following relate to urban development and urban design in general, and to specific projects with sun/shade issues in particular. They were derived from our twitter feed @SunPosition
---
Check out our weekly news summary "Sun, Shadow & Urban Development" at
http://paper.li/SunPosition/1376522926
---
What are your thoughts about shadowing from proposed buildings?
Take our survey - http://t.co/RrxLfmSoMX
---
New York City's Skyline Evolves With Tall, Skinny Towers | via @planetizen
Concerns are surfacing about the number of towers taller than 1000' that have been built, or are proposed, south of Central Park around 56th and 57th streets.
New technologies and wealthy buyers are driving the trend for the super-talls while opponents believe that out of date zoning bylaws are beeing exploited (e.g. transfer of air rights) and that the new towers will cause subway over-crowding and shadowing on public spaces.
---
No shadow study provided >
Downtown west end residents fight proposed apartment tower | Calgary Herald
West end Calgary residents are appealing the approval of a 12-storey apartment building that they say will block views of the river. They are baffled by the building design which has windows only along the narrow end walls, and they are concerned that no shadow study was submitted even though one was required by the Centre City Plan guidelines.
---
Can a Skyscraper Constitute Sprawl? | CityLab
There are currently over 260 towers taller than 20 storeys in the works in London. But how many is too many? Two architects are now sparring over a proposal by one of them for a 735' tower over Paddington Station.
While shadowing is a concern, the many tall and slender towers have been described as a collection of porcuine spikes, lipstick holders, candlesticks, etc.
---
Two-Tower Development Proposed at Don Mills and Lawrence | via @urban_toronto
Cadillac Fairview is proposing to add a two-tower residential development to the Shops of Don Mills complex which opened in 2009. The Hariri Pontarini-designed project is located at 169 The Donway West and consists of 34 and 39 storey towers which would become the tallest in the area.
---
Stockholm May Start Paying People to Bike, Using Car Fees | CityLab
Sweden's Royal Institute of Technology is suggesting that some of the money earned through the congestion charge be directed back to cyclists as credits towards bike repairs or upgrades to studded tires for winter riding.
---
Shadow studies, just a push of a button??? >
Los Altos Downtown Buildings Committee Report Nixed by PTC
The volunteer committee was thanked for all their hard work - and then their report was essentially rejected. Among other things, the Planning Commission felt that views and shade should not be a consideration downtown. The members noted that although shadow studies can be done at the push of a button (this I would like to see), shadowing restrictions can lead to unattractive "wedding cake" buildings.
---
400-Foot Tower Proposed For Folsom & Spear Receives First Green Light | Hoodline
A request to increase the permitted height from 300' to 400' was approved by the Commission on Community Investment and Infrastructure despite concerns from many Rincon Hill residents about shadowing on Rincon Park. The application goes to the San Francisco Planning Commission in March.
---
Experts predict GTA may see 105,000 home sales in 2016, the most ever in a year | via @buzzbuzzhome
The Toronto Real Estate Board is predicting either the best-ever year or the second best-ever year for 2016.
---
Stumbled upon a shadow study by others that was incorrect. Helped City Planning get it fixed.

---
A different kind of shadow study - for a civil trial. Just finished a photo analysis to determine what time it was taken. Love this stuff.

---
Vancouver Ranks As 3rd Most-Unaffordable Place To Live In The World | The Huffington Post BC
The average Vancouver home costs nearly 11 times more than the average household income. 5.1 and over are considered "severely unaffordable" .
---
Ryerson University wins facade engineering award | Construction Canada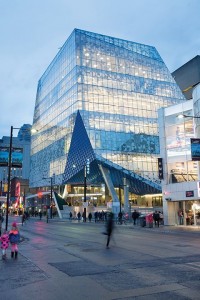 Ryerson University's Student Learning Centre in Toronto won the Society of Façade Engineering's Façade of the Year for 2015 award in the new building category.
---
Vancouver needs to 'grow up' with taller towers: developer | Business Vancouver
A developer thinks the City of Vancouver should allow towers taller than 1000' in certain areas and that housing needs are stymied by the fear of shadowing.
---
Will the Tallest Building in NJ Cast Too Big a Shadow Over Other Guv Hopefuls? | via @PolitickerNJ
Ground has been broken on the tallest building in New Jersey across the river from Manhattan - a 79-storey residential tower 900 feet tall.
---
Just finished a Shadow Study for a proposed highrise in Hawaii. Site visit required?
---
Cheers, Ralph