The following relate to urban development and urban design in general, and to specific projects with sun/shade issues in particular. They were derived from our twitter feed @SunPosition
---
Check out our weekly news summary
"Sun, Shadow & Urban Development" at
http://paper.li/SunPosition/1376522926
---
What are your thoughts about shadowing from proposed building developments in your neighbourhood?

Please help us out by taking our short survey at
---
If you haven't visited our Facebook site before, check it out now...

https://www.facebook.com/sunposition
---
Shadow concerns >
City opposes Edmonton developer's plans for 16-storey tower near Whyte Avenue | Edmonton Sun
An Edmonton developer hopes to convince councillors to let him build a 16-storey tower just off Whyte Avenue despite opposition from city officials…
McLash will present his case to rezone the site at an April 18 public hearing, but officials have already stated their opposition in a report headed to city council. They say the character of the project doesn't fit with the Strathcona Area Redevelopment Plan…
McLash said he doesn't plan to decrease the height of the tower because it's already been reduced from 20 storeys to address concerns heard at a recent open house. The building was also redesigned to eliminate sun shadow from March to September on the north side of Whyte Avenue, he said…
When it was presented to the city's executive committee in February, proponents assured councillors that the building, which would be situated at 81 Avenue and 105 Street, would be far enough back from Whyte Avenue (82 Avenue) that it would not cast a substantial shadow on neighbouring properties.
Those claims were backed by diagrams included in the report. But comments collected at a public meeting still expressed concern that the building would set a precedent for other similar applications that would be contrary to the Strathcona Area Redevelopment Plan.
Other issues mentioned by neighbours were increased traffic and a change to the heritage character of the neighbourhood. The Edmonton Design Committee also pointed out the shadow of the building would limit the functionality of the rooftop open space of neighbouring properties.
---
Height reduction to reduce shadowing >
VCAT orders redesign for development at Nylex Clock site | ArchitectureAU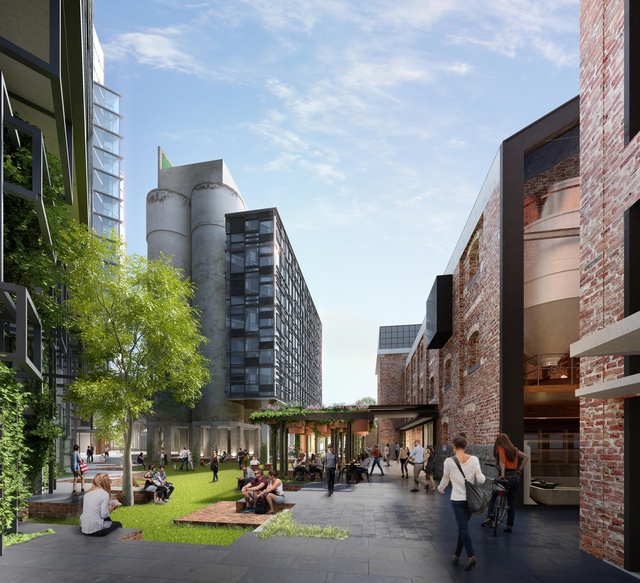 The Victorian Civil and Administrative Tribunal (VCAT) has ordered the developer of a $1 billion apartment development in Cremorne, Melbourne, to amend its design due to its excessive height and high proportion of one-bedroom apartments…
The tribunal concluded the proposal did not "deliver an acceptable planning outcome." In its order, it gave the developer an opportunity to resubmit a proposal that would address the tribunal's concerns.
The tribunal found both towers on the site "exceed the recommended building height of RL38" (relative level in metres). The 18-storey southern tower "rises to a height of AHD 62.25" (metres above sea level) and "the extent to which it exceeds the recommended height is not acceptable," the tribunal reported.
It also found the proposed 18-storey tower will have a shadow impact on the Yarra River, as well as causing apartments in the lower levels of a neighbouring building to have "about 1.5 to 2 hours of access to sunlight between midday and 2pm at the equinox."
The tribunal heard evidence from expert witnesses including architects Robert McGauran (MGS Architects) and Jim Holdsworth, who both recommended a reduction in height of four storeys. "We acknowledge that such a reduction would in all likelihood address our concerns, but a lesser reduction may also be acceptable," the tribunal stated…
https://t.co/czuwPSLBXy via @ArchitectureAU

---
@Urban_Toronto @mymadisonhome Nice-looking project. Were the terraces added to reduce shadowing or to increase unit values?

---
RT Construction Dive @constructdive: Burj Khalifa developer plans to construct new 'world's tallest building' in Dubai:
In the ongoing race to build higher and higher, Dubai developer Emaar Properties has announced its plans for The Tower, which it said will "be a notch taller" than the current world's tallest building, Dubai's 2,717-foot Burj Khalifa, The Wall Street Journal reported…
---
RT New Republic @NewRepublic: Cooling down the world's cities, one rooftop at a time:
City life is hot. Baked by the sun, buildings and roads exhale heat at night, raising urban temperatures by up to 22 degrees. The infrastructure that makes cities so attractive to the billions of people who live in them—the subway cars, street kiosks, air conditioning— belch out more warmth. And it's only supposed to get worse.
By 2050, 2.5 billion more people are projected to leave the countryside for the city; in the United States alone, urban land will more than double by 2100. Faced with what scientists call "the urban heat island effect," cities around the world are encouraging the development of roof gardens. These blankets of wildflowers, grasses, and sometimes even vegetables reduce water runoff, absorb carbon dioxide, and lower temperatures…
---
Developer scales back 'skinny tower' to reduce shadow impact | Boston Globe

The Swiss developer behind a proposed skinny tower on Tremont Street overlooking Boston Common has shaved off more floors from the building — again.
Maurice Dabbah originally approached Boston officials with plans for a 355-foot tower, totaling 32 stories, at 171 Tremont St. Neighbors balked, and Dabbah's team last year knocked the height back to 255 feet, and 20 stories.
The Friends of the Public Garden complained publicly in January about the project, citing a 1990 state law aimed at limiting shadows cast on the Common from new buildings.
So Dabbah lowered the tower again, to 235 feet and 19 stories, according to figures provided by O'Neill and Associates, a Boston public affairs firm representing Dabbah. The width of the tower remains at 50 feet.
Michael Sherry, a director at O'Neill, said Dabbah expects to file a revised proposal with the Boston Redevelopment Authority later in April.
Ross Cameron, a senior associate at Elkus Manfredi, the architectural firm that designed the building, said the top floors on the revised design step back from the street, much like a small staircase, to curb the effects of shadows on the city's oldest park.
"We shaped the top of the building specifically to reduce the shadow impact. The series of steps back is designed to match exactly the angle of the sun in a 'worst case scenario,' " Cameron said. "We're mostly concealed by shadows that are already being cast by larger buildings nearby."…
https://t.co/XIjX8AC7Lk via @BostonGlobe

---
RT Construct Canada @ConstructCanada:
The top 10 Toronto developments on BuzzBuzzHome in March 2016
See list here http://ow.ly/10Cx77 via @BuzzBuzzHome

---
22-storey tower planned for Westside | El Paso Inc.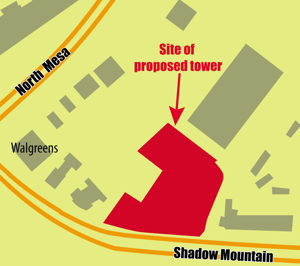 Florida-based Meyers Group has plans to build a 22-story hotel and apartment tower in El Paso, a project that represents a huge bet on the city's future and would take development to new heights.
As planned, the tower would have more floors but not be taller than the city's tallest building – the Wells Fargo office tower in Downtown, which opened in the 1970s as State National Bank.
Plans show the Meyers Group's tower would rise 256 feet. The Wells Fargo tower rises 302 feet, according to Borderplex Realty Trust, which owns the building...
http://www.elpasoinc.com/news/local_news/article_69f49fec-0587-11e6-b555-4399b5161821.html

---
Previous smaller proposal was rejected over shadow on Victoria Manalo Draves Park >
Deli Board and Fondue Cowboy Potentially Threatened By Condo Proposal On Folsom | SFist
A proposal for a 46-unit residential building at Folsom and Russ Streets would, potentially, mean the demolition of several retail businesses facing Folsom Street on that block…
The developer, who's only just submitted preliminary plans to Planning that may still be rejected, had previously proposed a 10-unit building at 190 Russ Street, at the rear of this same site, that was rejected over a shadow that it would cast for part of the year, 42 minutes per day, on the park across the street, Victoria Manalo Draves Park. The new proposal is a larger building the same height as that one, six stories, with more Folsom frontage, and it's unclear why the developer, Golden Properties, believes that this idea will fly if that one didn't. But perhaps they've made some new accommodation for the shadow…
---
RT Donny B @thetorontoblog:
The 1 Bloor condo tower dominates the view north from Norman Jewison Park at Gloucester Street
> @thetorontoblog Fortunately it's not south of the park.

> RT Donny B @thetorontoblog: @SunPosition The park's trees and plants are immensely grateful for that!

> @thetorontoblog And the people too, no doubt.

> RT Donny B @thetorontoblog: @SunPosition I'm among those who are happy to still be able to walk through the park in sunlight every day

---
Shadowing reduced on Jesse Ketchum Park >
One Bloor West gets a more refined look | Yonge Street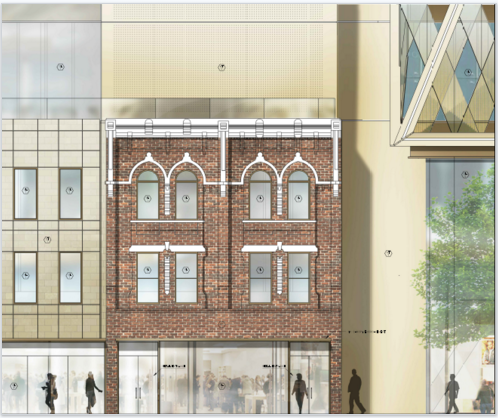 Mizrahi Developments turned a lot of heads last spring when it unveiled its proposal for 1 Bloor West, the long-time home of Stollery's menswear. At 318 metres, the Foster + Partners building would have been out-heighted only by The CN Tower, soundly beating out the 257-metre One Bloor East building that's risen across the street.
Last month, Mizrahi presented a refined plan to the city planning department and to the Design Review Panel, taking the height down to 304 metres—72 storeys instead of 84 in order to minimize shadow impact on Jesse Ketchum Park…
---
Westside resident starts petition to vote down proposed Shadow Mountain high-rise | KFOX
People are already unhappy with the proposed 22-story building that could go up on Shadow Mountain Drive.
A petition has been started on Change.org to vote down the building.
El Paso resident Lindsay Kronmiller, who helped start the petition called "Fight the High Rise: Keep Our Mountains Tall," said she is opposed to the mixed-use tower…
---
SolarWindow Process Breakthrough Generates Electricity for Next Generation Skyscraper Glass | North American Clean Energy
SolarWindow Technologies, Inc. announced that performance tests of its transparent electricity-generating coatings for glass and flexible plastics have produced favorable outcomes for glass-to-glass lamination processes. The test results are especially promising for expanding the application of SolarWindow coatings beyond standard window glass to include high-performance laminated glass – a fast growing segment of the commercial and architectural glass market…
---
Long shadows create political hurdle for S.F. skyscraper project | San Francisco Chronicle
The elderly Chinese men and women who gather each morning in Portsmouth Square for their tai chi routines would seem to have little to do with a proposed hotel, office and condo complex a half-mile away at First and Mission streets.
But in compact San Francisco, where high end and low end mingle cheek by jowl, the shadows that the proposed 2 million-square-foot Oceanwide Center at 50 First St. would cast on two Chinatown open spaces have emerged as the biggest political hurdle to the approval of what would probably be downtown San Francisco's last mega-project.
Designed by British Pritzker Prize-winning architect Norman Foster, Oceanwide Center would include a 905-foot skyscraper with more than 1 million square feet of office space and 19 floors of condominiums. A second, shorter tower would contain 169 hotel rooms with an additional 154 condos. The taller of the two buildings would be the city's second tallest, topped only by the Salesforce Tower, which is under construction at 101 First St. and will reach 970 feet…
But critics argue that economic benefits don't justify a violation of 1984's Proposition K — the "Sunlight Ordinance" — which blocks construction of any building over 40 feet that casts an adverse shadow on Recreation and Park Department property unless the Planning Commission decides the shadow is insignificant.
The project would throw a shadow on Portsmouth Square between 8:05 and 9:10 a.m. from late October to early February. It would shadow St. Mary's Square, also in Chinatown, in March and September. It would also shadow Justin Herman Plaza, at the foot of Market Street, from mid-October to late February, and Union Square from early May to early August.
"It really clobbers Portsmouth Square," said Allan Low, an attorney and a member of the Recreation and Park Commission.
After six months of negotiating with the city, Oceanwide Holdings — a Chinese developer that also has projects in New York and Los Angeles — has agreed to mitigate the shadows with a $12 million endowment for recreation and parks programming in Chinatown, a fund that will help pay for amenities like sports, after-school programs and senior fitness programs, said Low, who helped hammer out the deal.
"I am loath to negotiate a cash-for-shadow deal, but to their credit, Oceanwide did recognize the significant impact their project will have on Portsmouth Square and the Chinatown parks," he said.
He said funding for programming is desperately needed.
"We can build the parks, but we have to have money for programs and services for the people in the parks," Low said. "For the majority of people in Chinatown, the parks and recreation centers are the only open spaces to go outside of their SRO rooms."
The commitment to Chinatown recreation is not enough to appease those who have fought to keep shadows out of city parks. Bill Maher, a former supervisor and director of the Department of Parking and Traffic who wrote Prop. K, said trading shadows for dollars is "flatly illegal." Prop. K's shadow-limiting powers are clear, he said.
"Planners have completely disregarded the voters' decision on Prop. K," Maher said. "They have simply administratively overruled the voters. They have changed the rules, without legal authority, to say the economic value of the project is the driving force. If that is the case, no park will survive."
He added: "Once you build a building, you can never get the park back. Downtown will become a perennial wind tunnel of darkness."
Attorney Sue Hestor, who also worked on Prop. K legislation, agreed.
"Everyone throws money at things, but shadows are shadows," said Hestor, who has long been involved in battles over development. "Portsmouth Square is the living room for people who live in 10-by-10 rooms," she said…
http://www.sfchronicle.com/bayarea/article/Long-shadows-create-political-hurdle-for-S-F-7382467.php?t=f313c4608e00af33be&cmpid=twitter-premium
---
Cheers, Ralph