The following relate to urban development and urban design in general, and to specific projects with sun/shade issues in particular. They were derived from our twitter feed @SunPosition
---
RT @adamadonaldson: Staff says this design should reduce the shadow impact. Many delegates tonight will disagree.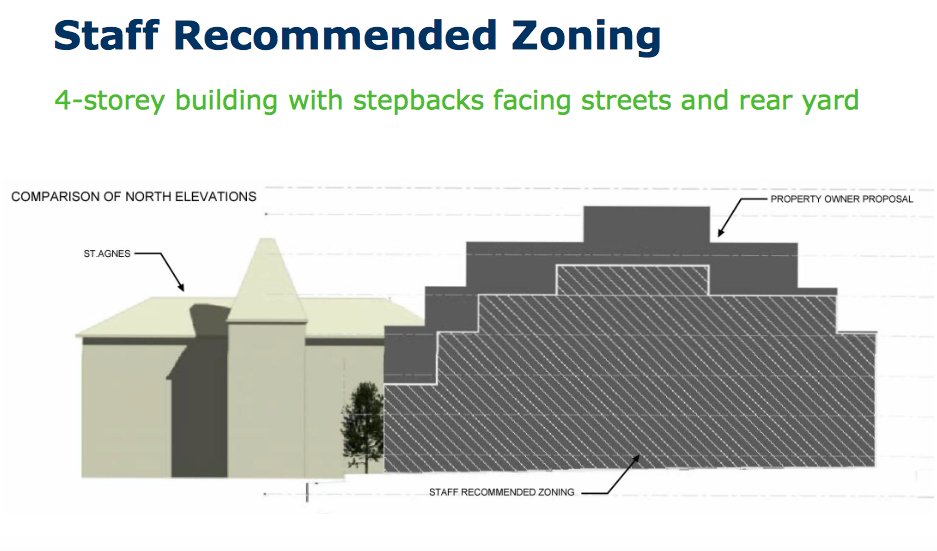 ---
Shadow concerns >
Winthrop Square Project Meeting on December 5 | Beacon Hill Times
"The Boston Planning Development Agency (BPDA) will be holding a meeting regarding the controversial proposed building for 115 Winthrop Square in Downtown Boston on Monday December 5, from 6:30 to 8:30 pm at the Suffolk Law School at 120 Tremont Street. The meeting will discuss the multi-use tower that might rise as high as 775 feet above Boston's skyline.
The proposed tower, which is slated to replace the current deteriorated Winthrop Square Garage, will cast a long shadow a third of a mile away onto historic parks including the Boston Common, the Public Garden, and the Commonwealth Avenue Mall, breaking the existing shadow laws."…
"The current laws restrict any new shadows on the parks outside of certain permitted conditions. This will need to be modified in order to permit this or any other tall project to proceed on this site.
The Winthrop Square project will be reviewed under Article 80 of the Boston Zoning Code, along with a continuation of the community participation.
There was an Impact Advisory Group (IAG) meeting for this project held on Monday, November 28, where IAG members worked closely with the BPDA staff to identify the impacts of the project and recommended appropriate community benefits to offset those impacts.
The Friends of the Public Garden who have consistently advocated for protecting the public parks from excessive shadow and wind resulting from development projects that would harm these green spaces came out asking for a solution to prevent this from happening.
"As you know, in 1990, the Friends worked with elected officials and the Boston Redevelopment Authority (now the BPDA) to draft and enact legislation to protect the Boston Common and Public Garden from damaging new shadows," wrote Liz Vizza the executive director of Friends of the Public Garden in a statement.
She continued, "This shadow protection has worked as intended – it has successfully protected our parks, while allowing robust development to continue in the city. Now, 25 years later, we are facing a new generation of buildings that challenge our parks."
Vizza states that the Friends of the Public Garden believes that a comprehensive solution needs to be made to downtown development projects that threaten to cast shadows on the parks and do not conform to the current legislation."…
---
Proud to have 7 Clients on this list >
The top 10 Toronto developments on @BuzzBuzzHome in November 2016
---
Here's what the shadow from the Winthrop Square tower could look like | via @BostonGlobe
"There's been a lot said lately about the shadows that a massive skyscraper planned for Winthrop Square would cast on Boston Common and the Public Garden.
Its developers are hoping that some pictures will be worth more than words.
Millennium Partners has released animations showing precisely where — and for how long — its proposed 750-foot tower would cast shade on the two historic parks, which are protected by state laws that ban shadows from new buildings in most of downtown Boston."…
---
Shadow concerns >
Complaints about PS332 roil CB 11 meeting | TimesLedger
"A representative from the School Construction Authority vexed residents at Monday's Community Board 11 meeting when he announced progress has been made on the construction of PS 332 in Bayside. The new school raised concerns over decreased property values and aggravating already congested traffic conditions.
About 50 people attended the meeting.
Construction on the controversial school, which will have 468 seats in a four-story building containing 20,000 square feet, began in the summer of 2015. The SCA has projected the school at 210-07 48th Ave. on the former Keil Bros. property will be completed by next September. It is supposed to relieve overcrowding at PS 31, 41, 159, 162 and 203, which are operating at more than 100 percent of capacity.
What started as spirited display of progress by SCA Director of External Affairs Michael Mirasola became an acrimonious meeting in the MS 158 auditorium at 46-35 Oceania St. when the residents began voicing grievances. One resident complained about the building cast houses in permanent shadow and rendered adjacent homes "unsellable" due to the proximity of the facility.
"There is no such thing as a perfect school," Mirasola responded. "We have to make concessions and sometimes there is a shadow. Every building we build, there is a shadow. It's regrettable, but it's just a fact of life.""…
---
Shadows on Boston Common >
The trouble with Winthrop Square | via @BostonGlobe


"A POPULAR DEVELOPER wants to take a decrepit, shuttered garage off the city's hands and build a 750-foot Xanadu of glass and steel in its place."…
"Plenty, say parks advocates and preservationists, who fear a slippery slope if Boston Mayor Martin Walsh succeeds in getting around a 1990 law that protects Boston's historic parks from shadows cast by tall buildings.
Few really believe the mayor's assurances that the exemption he is seeking would apply only to the garage development at Winthrop Square. Other developers who have been stymied by the shadow law would surely demand equal treatment. "This would be the beginning of shadow creep," said Elizabeth Vizza, executive director of Friends of the Public Garden. Soon Boston could become like New York City, where super-tall towers are being constructed along Central Park South, throwing long, thin shadows, almost like prison bars, across the city's lungs.
In a presentation last month, Millennium Partners, the site's developer, admitted that shadows cast by the building would violate the law on more than half the days of the year on the Boston Common, and for about 100 days on the Public Garden. The much-loved, much-used lawn on Boston Common has a hard enough time without the added insult of shade, a horticultural condition that can't easily be fixed with more water or fertilizer. And these are not just any parks — they are close to sacred ground in Boston, two of the city's diminishing number of noncommercial civic spaces that are free and open to all."…
"Rather than mitigate the impact of the shadows with expensive side benefits, why not just mitigate the shadows? Millennium Partners could deploy its army of architects and planners to find a new design or a new way to develop Winthrop Square. A tower of roughly 400 feet would be in compliance with the law. That wouldn't be nearly as lucrative or yield the city the same amount of quick cash, but it would let the sun shine in."
---
Winthrop Square Project Draws Large Crowd Over Shadows | Beacon Hill Times
"A packed courtroom at the Suffolk Law School laid the stage for the first public meeting held for the proposed tower at 115 Winthrop Square by the Boston Planning and Development Agency (BPDA) on Monday, December 5.
Members of the community voiced their concerns over amending the current Shadow Laws to allow a 775-foot high mix-use tower to be built, casting additional shadows onto the historic parks The Boston Common, Public Garden and Commonwealth Avenue Mall.

On the Boston Common and the Public Garden current Shadow Law requires that no new shadow should be cast one hour after either sunrise or one hour before sunset. In order for the current laws to change the developers, Millennium Partners, will need legislative approval from both the city and state to proceed.
In order for this building to be within the current Shadow Laws the proposed tower would have to be cut in half to be from 350 feet to 440 feet tall."…
---
RT @Barrie411: The developer of a huge downtown Barrie condo is branching out, into the east end | Barrie Examiner
"The developer of a huge downtown Barrie condo is branching out, into the east end.
Advance Tech Developments announced plans Friday for a $50-million, 238-unit residential condominium at 290 Georgian Dr.
"That is the highest elevation in Barrie and we've actually scoped out that area in terms of what the views look like," said Joe Santos of Advance Tech. "So it has a tremendous view of Oro (Medonte Township) and Little Lake, but also you can see the outline of Lake Simcoe all the way down to Keswick."
Santos said the zoning is already in place for the property, and that Advance Tech is talking to city planning staff about a site plan.
To be near Royal Victoria Regional Health Centre (RVH), it's to be high-end condo living called 'The Vic'.
Santos said the property's zoning allows 15 storeys, and this project's height will be in that range."…
---
Shadow cast by proposed Providence skyscrapers among concerns | Providence Journal
"The chairman of the 195 commission said Friday that a New York developer's proposal to build three high-rise towers raises "some significant urban planning issues due to its scale and design."
However, I-195 Redevelopment District Commission Chairman Joseph F. Azrack said the proposal from Jason Fane and The Fane Organization is "clearly a significant and serious development proposal that we have to review."
Consultants hired to study the project are expected to report back within a couple of weeks, and the commission will likely meet and review their findings early in the new year.
Azrack is concerned whether:
- The shadow cast by the towers would lessen the appeal of a park to the east.
- The 60-to-70-foot base for the towers could block a walkway between the waterfront to downtown.
- Pedestrians to the west of the towers could see the park and pedestrians on the new bridge across the Providence River could see downtown."…
---
Very cool >
Mapping the Shadows of New York City: Every Building, Every Block | New York Times
…"Sunlight and shadow shape the character and rhythm of New York's public spaces. They have the power to control the flow of foot traffic on our city streets and decide which plazas hum with activity and commerce and which stay barren and desolate. And probably most noticeably, they have the power to change the rent. In most parts of America, sunlight is not debated the way it is in New York, where the city's thirst for living space, working space and economic growth has turned the sun into a virtual commodity."…
---
As Nearby Valencia Development Looms, Zeitgeist Files Review To Protect Beer Garden From Shadow | via @SFist


"Zeitgeist, among San Francisco's best known bars and choice few beer gardens, celebrates its 40th anniversary next month, having recently attained Legacy Business status in its wizened, grizzly old age. But just as that event nears, a literal shadow on the horizon could threaten the establishment's crown jewel, that seasonally sun-drenched patio area, and therefore its livelihood as a business, or so general manager Gideon Bush informs SFist.
A development at 198 Valencia Street at the Northwest corner of Valencia and Duboce — currently an oil changing business and its parking lot directly across from Zeitgeist's 199 Valencia address — is nearing approval, and while Bush explains that the project has been in the pipeline for some years, since 2013 according to Socketsite, the bar has recently discovered the effect of shadow that would be cast by the current designs for a five-story condo building with commercial ground floor space.
The realization occurred following shadow analysis performed in accordance with 1984 San Francisco Proposition K, the so-called "Sunlight Ordinance" which restricts buildings that cast shadows on public spaces such as parks. Just north of Zeitgeist and its neighboring business Black Heart Tattoo is a small sliver public space, SoMa West Dog Park, tucked beside the 101. "Through that [review] we realized the shadow cast by this building will a have a significant impact during what we call our busy season, the months of March through about late November, when we get that late summer that sun Francisco is so well known for," Bush told SFist.
Zeitgeist has filed a discretionary review to voice its concerns, as have other nearby businesses with different ones. As Bush Clarifies, "While the building won't completely take away our sunshine, it will have an impact from 4:30 p.m. to about sunset, when people are getting off work and might want to enjoy the last few hours of daylight. That would cease to exist at Zeitgeist if this development goes through as planned.""…
---
Zeitgeist, Concerned Over Shadow, Opposing Mission District Housing Project | Mission Local
"A chilly afternoon in the middle of December didn't stop regulars from venturing out onto the patio of one of the Mission's most popular bars, Zeitgeist. But the manager there, Gideon Bush, fears that the shadow cast by a five-story building expected to go up across the street just might.
Bush said the building, a five-story, 28-unit mixed-use building with a ground floor commercial space, will cast a shadow on the beer bar's popular outdoor space during its peak use times — March through October, he said, the shade would cost the bar business."…
---
A life in the shadows: Take a look at some of Manhattan's darkest and brightest streets | The Architect's Newspaper
"A comprehensive shadow study of Manhattan has been done by the New York Times. The analysis plots average shadows over the course of the year from every building in Manhattan shedding light (or rather shade) on New York's gloomiest and brightest streets.
By hovering over areas of the map, one can find out how much a certain street spends its time in the shadows. This data is presented as a percentage of daylight hours and is split in three to account for different times of year: Summer, Winter, and Spring/Fall. The amount of time a particular area is shadowed is written as a unit of time. For example, the intersection of Broadway and Murray Street spends on average: Four hours and 35 minutes in shadow during the Summer (38 percent); two hours and 34 minutes in shadow during Fall/Spring (29 percent) and two hours and 47 minutes in shadow during the Winter (46 percent)."…
---
N.W. rec centre blinding motorists | Calgary Sun
"What's been described as an inspiring piece of architecture in the city's far northwest is proving too brilliant for some passing motorists.
Northwest Coun. Ward Sutherland said he's received complaints about the intense glare thrown by the gold-coloured metallic panels on the exterior of the Rocky Ridge Recreation Facility being built at Country Hills Blvd. and Rocky Ridge Rd. N.W.
Motorists are most affected by the briefly-blinding reflections off the $205-million building whose fluid, rounded curves mimic the surrounding hills, said Sutherland.
"Depending on the time of day and the angle of the sun, when they look at it, it makes it a bit difficult for them," he said.
"When I've driven by it, it kind of hurt my eyes."
That same problem was also glimpsed by Tessa Sakamoto, president of the Rocky Ridge Royal Oak Community Association.
"It was something I noticed driving past at sunset, the glare of it was quite bright on the eyes," she said.
Sutherland said during a tour of the construction site, he learned officials with builder PCL were aware of the potential reflection problems but assured him it wouldn't be permanent.
The type of metal used in the panels, he said, will lose their glossiness in about five months' time, he said."…
---
Cheers, Ralph