The following relate to the dangers of sun glare while driving, and traffic safety in general. They were derived from our twitter feed @SunPosition
---
Wet roads can make sun glare even worse, and visors do little to help.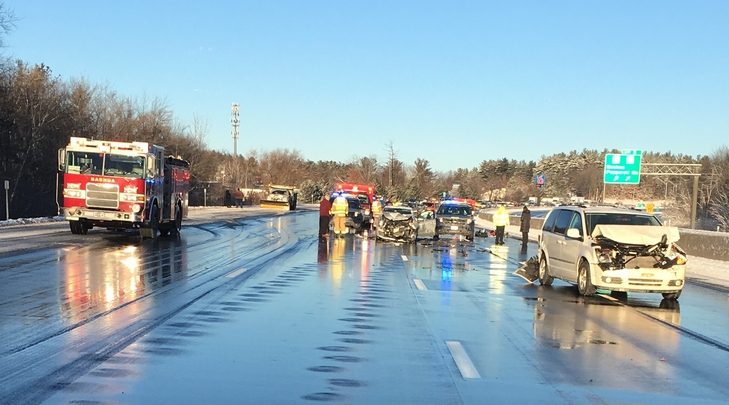 https://t.co/Or6lgHRbBy @UnionLeader


---
Seniors more sensitive to headlights and sun glare, eyes need more time to recover | via @ithacajournal

"Helping seniors understand and recognize how age-related changes in mobility, touch/grip, vision, hearing and cognition can affect driving is key for the driving fitness assessment provided by Occupational Therapy at Cayuga Wellness Center's Brentwood clinic."…
"Most of the sensory information needed for driving comes from vision. Do have your eyes examined annually. Changes in vision that can affect driving safely include but are not limited to:
Peripheral vision narrows with age making it harder to see signs, vehicles and pedestrians on the edge of our visual field.
Low-light conditions hamper vision at night, at dusk and dawn and during inclement weather.
Increased sensitivity to bright light from oncoming headlights makes seeing difficult at night or during the daytime from sun glare and slower recovery time from glare."…
---
Trial set for city worker charged in fatal collision | Lethbridge News Now
"A city worker charged in connection with a deadly crash on Whoop-Up Drive in 2015 is heading to trial.
Following a plea of not guilty to dangerous driving causing death in December, a lawyer appearing for 32-year old Scott Edward Erickson had the matter set for trial Friday (Jan. 13). The five-day trial will run September 6-12, 2017.
On November 13, 2015, a 72-year-old man died when his Pontiac Montana collided with the rear of a front-end loader that was being used to clear snow in the westbound lanes of Whoop-Up Drive near the University Drive exit.
Following an investigation, Lethbridge Police said sun glare, the driving pattern of the loader and a lack of safety equipment were contributing factors in the collision. They cited warning signs and a pilot vehicle as the type of equipment not being used at the time."…
---
Another left turn + sun glare crash >
Blinding sun blamed after woman and baby hit by truck in Langford | Goldstream News Gazette
"A woman carrying her five-month-old baby was struck in a crosswalk in Langford on Thursday.
West Shore RCMP Const. Alex Berube said the two were crossing at the lights at Veterans Memorial Parkway and Hoffman Avenue at about 3:30 p.m. when they were hit by a white utility truck making a left-hand turn off of Hoffman southbound onto Veterans.
The driver, who said he was blinded by the sun, was issued a ticket for failing to yield to a pedestrian."…
---
RT @FresnoBee: NTSB report: Sun glare in pilot's eyes contributed to fatal crash of law enforcement plane
"The crash of a law enforcement plane that killed both the pilot and a deputy sheriff in Tulare County last year was partly caused by sun glare in the pilot's eyes, according to the final accident report by the National Transportation Safety Board."…
…"What we did learn that was new to us was the glare of the sun," Boudreaux said. "We had no idea about that."…
"The accident happened at about 4:17 p.m. when the sun was not far above the horizon.
The Flight Design light sport aircraft was on a low-altitude observation flight, the report said."…
"Another pilot who flew in the vicinity right after the accident said that due to sun and haze, "he could not distinguish the tops of the hills to the left of the highway from the sky," the report states.
"It is likely that the accident pilot was partially blinded by sun glare and did not see the hills arising above him on his left," the report states."…
---
Driver's view blocked by sun glare >
Crossing guard at A&M Consolidated hit by truck | via @theeagle

"A 58-year-old crossing guard at A&M Consolidated High School remained hospitalized late Monday after the driver of a large truck hit him, saying his view was blocked by the glaring early-morning sun.
No citations had been issued by late Monday, according to police, who said an investigation was ongoing into the 8 a.m. accident at the crosswalk on Nueces Street between Grace Bible Church and the school."…
"The driver of the Ford F-150, whose two juvenile passengers are students at the high school, told police he was driving southbound on Nueces Street when the glare from the sun prevented him from noticing the man.
U.S. Department of Transportation officials said sun glare -- at its worst just after sunrise and before sunset -- can make it much harder to see the roadway and potential hazards, which is why police caution motorists to slow down and use extra care when driving through school zones.
Lt. Steve Brock, spokesman for the police department, said the intersection where the wreck unfolded has a well-marked crosswalk. He said he encourages drivers to know their daily routes.
"If you are going be driving on a clear day facing a sunrise or a sunset, you need to think about that and be wearing sunglasses, use your sun visor and do what you can to be as safe as possible," Brock said. "But that's just nature, and you are going to have to take that into account and do the best you can."…
---
Blinded by sun glare >
Dad's lucky escape after 100ft air crash in Wishaw | Daily Record
"A thrill-seeking paraglider told this week how his life flashed before his eyes as he plummeted out of the sky and hit a tree at 100ft before crash landing in a Wishaw park.
The 53-year-old man, who only wanted to be named as Richard, is lucky to be alive after crashing his paramotor in Greenhead Moss Community Nature Park.
The father-of-two suffering difficulties at around 3.30pm on Saturday when sunglare caused him to crash to the ground from 100ft.
He sustained a broken pelvis, a fracture to his right arm and dozens of cuts and bruises to his face and body.
The experienced pilot of four years told the Wishaw Press from his hospital bed that the low sun glare temporarily blinded him causing him not to see three high tension power lines until the very last minute.
He added: "I was on a social flight with a friend and we were getting ready to land.
"The wind was coming from the north, which is very unusual for that area, so I decided to turn around and land from the other side.
"The sun glare was very strong and I couldn't see anything for a few seconds.
"Before I knew it I was seconds away from hitting the powerlines.
"I had to make a decision whether or not to hit the lines or make a crash landing so I decided on the latter."…
---
Cheers, Ralph