The following relate to the dangers of sun glare while driving and traffic safety in general. They were derived from our twitter feed (
http://twitter.com/SunPosition
or
@SunPosition
).
Awesome! Wish all jurisdictions did this > CDOT warns of morning sun glare on Floyd Hill
DENVER, CO - Transportation officials are warning eastbound drivers on Interstate 70 at Floyd Hill that they will soon have major problems dealing with early-morning sun glare.
The glare, particularly 7 to 8:30 a.m., will get worse starting in early November and continuing through early February, said Bob Wilson, spokesman for the Colorado Department of Transportation.
The problem, he said, is created by the sun's angle during mid to late fall and early winter, along with the highway's configuration along Floyd Hill, which is east of Idaho Springs.
CDOT will display messages on electronic signboards west of Floyd Hill, warning of the glare and asking eastbound drivers to use caution and slow down…
more-
http://t.co/KiQKuyrIwR
---
Motorists urged to be cautious for deer on roads, esp during low light or sun glare
TRENTON, NJ – The Department of Environmental Protection's Division of Fish and Wildlife is urging motorists to be alert for white-tailed deer on roads across the state with the arrival of the fall breeding season, especially during morning and evening commutes when visibility may be poor and deer are more active...
The danger is particularly pronounced at dawn and dusk when many people are commuting to and from work. Visibility resulting from low light or sun glare may be difficult during these times…
more -
http://t.co/zja8fDurXg
---
Great advice - and it reminds me of Roadhouse Blues by The Doors. MT @StateFarm: 2 eyes on the road. 2 hands on the wheel.
>State Farm @StateFarm: @SunPosition Let it roll, baby, roll!
>RB: Good comeback :). It would make for a great soundtrack for a driving safety ad don't you think?
---
Don't be a deadly human projectile. RT @NHTSAgov: Rule No. 5--no driving or riding without a seat belt.
---
Another 'left turn with sun glare' vehicle/pedestrian collision - esp bad this time of year
PARADISE, CA - The fifth vehicle vs. pedestrian accident in Paradise since May occurred on Saturday at 4:52 p.m. on Skyway and Elliot Road resulting in minor injuries.
Madeline Stringer, 20, turned left onto Skyway from Elliot in her Ford Focus sedan on a green light when she allegedly struck 51-year-old Leroy Test, according to a press release…
According to the press release, Stringer was reportedly unable to see Test in the crosswalk due to the setting sun…
Finally the press release urged drivers to be extra cautious when driving at both sunrise and sunset when the sun can be blinding to drivers…
more -
http://t.co/JSRvqtf2wg
---
Finally, a stat > Dazzling sunsets kill 36 drivers in 12 months: Glare contributes to 3,000 accidents
Image by Alamy
LONDON, UK - The glare of the setting sun during rush hour is to blame for 36 deaths a year, a report from the AA warns today.
The danger is particularly high now as autumn turns to winter and the sun sets at around 6pm – just as most drivers are heading for home.
It plays a part in nearly 3,000 accidents every year with drivers at risk of being temporarily 'blinded' by the dazzle of the sun on the windscreen…
more -
http://t.co/LngEyV3P57
---
Sun glare related crashes are up > 12% increase in 'dazzle' accidents
CAMBRIDGE, UK - With the low winter sun about to make its presence felt – especially on the homeward journey along the A14 – now's the time to ensure your car is prepared for the dazzling days ahead.
According to newly published data concerning road traffic accidents in the UK, there has been a 12 per cent increase in accidents resulting from dazzling sun affecting motorists' vision (2012 versus 2011)…
more -
http://t.co/bnqqOU7fWf
---
Roadshow: Tips to fighting the sun while behind the wheel – by Gary Richards
SAN JOSE, CA - Q I am responding to the letter from Kay Ritchey, who last week asked how best to keep the sun out of her eyes when driving.
I too have experienced the sun directly on the horizon and shining in my eyes while driving on Blossom Hill Road. I was not expecting the sun to be so direct and blew through a very busy intersection on a red light. One car on my right went through his light just in front of me, another car stopped upon seeing me, a third was making his left turn on a green arrow and headed in the same direction as I was going, and a fourth car was turning right also on a green light headed in my same direction.
The last two blasted their horns at me, rightfully so. It is a miracle that I didn't hit anyone and no one hit me. If there had been a collision I would have been at fault.
My solution is now to pull over and park or move into a parking lot for about 10 minutes until the sun has cleared the horizon. It is far better to be 10 to 15 minutes late, avoid a collision and not take a side trip to the hospital or morgue.
Barbara Turnage
more -
http://t.co/HhgznIiBFF
---
Autumn road hazards: Grapes, livestock, sun glare
image from Road Warrior
SANTA ROSA, CA - In September we reported a loose pig that was tying up traffic and
slippery grapes
that fell off a truck on their way to the crush pad. And then there was the charging cow that briefly closed Highway 128. (Read the
story here.
)
But now that it's October, afternoon sun glare is responsible for more widespread havoc. We offer suggestions about how to drive with the sun in your eyes and hear from a reader who says the sun interferes with traffic signals.
How do motorists combat sun glare? Mr. Roadshow columnist Gary Richards asked for suggestions and got a slew of them. Chime in if you've got better ones…
more -
http://t.co/1nxeI35XfD
---
Blinded by the light – raising rising sun awareness – by Mike Kenny
GLENDALE, AZ - After six-plus years, I feel pretty well acclimated to Arizona. I might as well have been born here. Blood is thinner, I shrug off encounters with scorpions, got a gun now … the whole deal. None of those things are true, but still. You see what I'm saying.
But there is one thing I have yet to adjust to, and that is the extreme brightness and location of the morning sun while driving. I realize that is a strange and specific thing to say, but it is a serious problem for me and I will explain.
It is not an issue in the winter when it is still dark on my way to work, or the summer when the sun reaches its peak height at 5 a.m. and remains there until 8 p.m. In the spring and fall, however, the morning sun rests at its most perilous point—over the mountains yet under my car's sun visor…
more -
http://t.co/DI2yep4FC0
---
Sun's glare causing problems for drivers
WEST PALM BEACH, FL - Have you noticed just how bright and blinding the sun is on your commute to and from work these days?
Well there's a very good reason for that.
From late September through October, the angle of the sun lines up nearly perfectly with east-west roads as it rises and sets.
The worst of the glare off the pavement are those driving eastbound during the morning rush and westbound during the evening rush.
This is making it difficult to see pedestrians, traffic lights and oncoming traffic…
more -
http://t.co/WFChtVAMVE
---
Even a stopped cement truck can be hard to see in sun glare > Collision kills newspaper driver
MABANK, TX – Mabank police worked a fatal accident Thursday morning on State Highway 198, north of the Comfort Suites hotel.
A 2001 red Chevy extended cab truck traveling north around 8 a.m. rear-ended a cement mixer stopped to make a left turn by the Golden Buckle, resulting in major frontal damage to the truck and killing the driver.
According to police the rising sun and associated glare played a major role in affecting visibility and causing the collision…
more -
http://t.co/zkga6rdgb3
---
Rush-hour glare? Yep, it's the season for that
image from LA Times
ORLANDO, CA - Rush hour driving and glare from the sun are at their most unhappy alliance now.
It's the time of year – near the autumnal equinox – when the sun's glare can make a morning commute to the east and an evening commute to the west difficult and dangerous.
"That's right," said astronomer Daniel Batcheldor, a professor at the Florida Institute of Technology in
Melbourne
. "I have to drive east and west. … The sun is always in my face."
The same will be true near the spring equinox, March 20.
Autumn equinox was Sept. 21.
Adding to the problem this time of year is the position of the sun once it tops the horizon. At the autumn and spring equinox, the sun rises around 7:30 a.m. and sets around 7:30 p.m. and most closely tracks a true east-west line.
That means anyone driving east in the morning and west in the evening will have nearly full front-on exposure, and it can blind you…
more -
http://t.co/clR9JuJnZi
---
Sun glare blamed. RT @fitzskemplaw: Wisconsin woman killed in multi-vehicle collision
MADISON, WI - At certain hours of the morning and evening in Wisconsin, the sun's glare can be blinding for automobile drivers. Sun visors can help, but when the sun is low in the sky, they become all but ineffective, especially for those who are driving directly into the sun. During these times, it is important for drivers to slow down to ensure that they have enough time to react if another vehicle or object crosses their path.
A fatal car accident that resulted in a multi-vehicle collision was reportedly caused by sun glare. The accident occurred in the early morning recently, most likely while the sun was still low in the sky. A 58-year-old Madison, Wisconsin woman was driving her car eastbound into the sun's glare. At around the intersection where Highways 31 and 151 meet, the woman crashed into a motorcycle. It is not known exactly how the collision occurred, just that the woman was blinded by the sun and likely did not see the motorcyclist until it was too late.
When the woman got out of her car, she was hit by another car and died. This caused six other vehicles to crash into each other and cause a pile up on the highway. A total of four people were taken to the hospital for treatment…
more -
http://t.co/exJs3py2nf
---
Did you know that sun glare can result in red light running?
SPINDALE, NC - Property damage was extensive after two vehicles collided at 7:45 a.m. Thursday at the intersection of U.S. 74A and ICC Loop Road in Spindale…
A blinding sun early Thursday appears to be the reason Pamala Vickers Dunaway, 55, of Rutherfordton ran the stop light in her 2007 Saturn SUV as she was proceeding east on U.S. 74A. As she was passing through the light, Hollie Cheyenne Brackett, 18, of Dobbins Road in Ellenboro was attempting to make a left hand turn while driving a 2009 Nissan pick-up truck...
more -
http://t.co/MgPWceOxcg
---
September was a bad month for sun glare related crashes
more -
http://t.co/bUS0FUuGB9
---
Higher number of collisions than normal this week: police, EMS
TORONTO, ON – It's been a worse than normal commute in Toronto this week because of a high number of crashes…
Const. Clint Stibbe, with Traffic Services, said the main cause of crashes this week was driver error — the two major factors being mental mistakes and overly aggressive driving…
Const. Stibbe also said the most collisions occur during the fall months.
"From the end of September to the mid part of December is essentially our highest collision months for the entire year, primarily on a dry day," he said.
Police partly attribute that to the sun setting earlier and drivers spending more time in the dark…
more -
http://t.co/QHBcEfWSk4
---
Scary children' placed outside primary school to shock speeding drivers into slowing down
image by imgur/ufig101
LEICESTER, UK - They may look like something out of a low budget horror film but these 'child bollards' are the latest attempt by a council to slow down drivers.
Half a dozen of the mannequin-style creations have been placed by the side of the road outside Avenue Primary School in Leicester to fool drivers into thinking a child is about to cross.
The hope is that when drivers see the crude plastic features and painted-on school uniforms they will ease off the accelerator…
more -
http://t.co/SH0li7gYQh
---
Cool, you used my photo. RT @AHHerald: Sun Glare Can be Deadly When Driving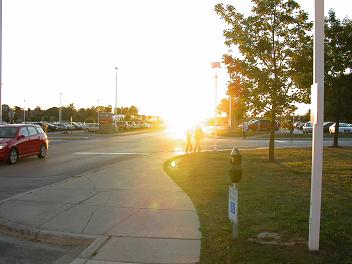 image by Ralph Bouwmeester
HAMILTON, NJ – It is a major hazard and a big threat to safety on area roads this time of year. It's the glare from a force of nature – the rising or the setting sun. Squinting and straining can be dangerous and can easily hamper a driver's ability to see the road, other on-coming vehicles, children heading to and from school, pedestrians, cyclists, and even traffic lights and signals.
Blinding rays from the sun can also reduce a driver's reaction time when heading east in the mornings and west in the evenings. What's more, research shows older drivers are most likely to be momentarily blinded by glare when the sun is on the horizon. Motorists should take precaution to avoid being blinded by the light…
more -
http://t.co/D7NSFI3V7H
by AAA Mid-Atlantic
---
Why is it that young drivers seem to be involved in so many sun glare related crashes? Another example
CUSHING, OK - A Cushing man on a motorcycle was killed Wednesday evening when struck by a pickup on West Point road near Ripley.
The accident occurred at approximately 6:45 p.m., according to a Oklahoma Highway Patrol report.
Motorcyclist Paul Conklin was traveling east bound on 68th and West Point on the two lane roadway.
Traveling west bound was Robert Massey, 19, of Cushing.
The report states Massey could not see the road due to the sun setting…
more -
http://t.co/csmVVINlwm
>Leigh Buchan @lives2talk: @SunPosition Because most driving instructors never address it!
>RB: Then perhaps they should.
>Leigh: Totally agree! It like high schools not teaching students about credit cards etc~!


---
Dealing With Glare From Low Sun – by Cst. Tim Schewe
COURTENAY, BC - Welcome to fall! It's the time of year that I have trouble driving to work in the morning. The sun is low in the sky to the east at the time of my commute and there is one spot on the highway where it shines directly into my eyes making it very difficult to see. Worse still, this location has an intersection with a traffic light that can be completely obscured by the glare.
The first line of defense is to keep my windshield as clean as possible. I use good wiper blades, winter washer fluid and top up the reservoir regularly. I also use a good quality glass cleaner on the inside of the windshield. It can be surprising how dirty the inside can get when the defroster is used. Dirt makes glare worse, so a clean view is a must.
My sun visor and polarized sunglasses make up the second line of defense. These sunglasses can remove significant amounts of glare and are not to be confused with glasses that have anti-reflective coatings. The two are not the same. When they are not enough, I use the same trick that I use when I am avoiding headlight glare at night, watch the edge of the lane so I know where I am.
The last line of defense is to anticipate and slow down. This gives me more time to search out the traffic signals and make sure that I am not going to run a red light. Keeping in mind that drivers behind me are also affected by the glare I may choose to slow down before it is required so that I am not hit from behind.
more -
http://t.co/65BapPwwpE
Oct 2/13 edition
---
The Western Squint: Low sun is cause for havoc on Calgary roadways
image by
CALGARY, AB - Tonight, Oct. 4, the sun will set over Calgary at precisely 7:07 p.m. (remember, mere weeks ago, when it playfully stayed up until long past your bedtime? Sigh). Tomorrow, you can subtract three minutes from that, and so on, until it's dark before you've even finished your afternoon cuppa. While there are upsides to our ever-shrinking days—it's cosy!—one of the more dreadful downsides to impending winter is the sudden, unwanted appearance in our windshields of an unfathomably huge ball of hot plasma stubbornly settling in like an NBA centre in the middle row of a packed Cineplex Odeon. Around the fall equinox, our east-west-running boulevards channel the blinding sun through our pupils as effectively as the gaps in Stonehenge…
more -
http://t.co/wI28hRf69R
---
Cheers, Ralph