The following relate to the dangers of sun glare while driving, and traffic safety in general. They were derived from our twitter feed @SunPosition

---
Police: possibility sun glare played a role > Dedham woman fatally struck by pickup | Boston Globe
DEDHAM, MA - A 70-year-old Dedham woman walking to church was struck and killed by a pickup truck as she tried to cross a street Tuesday morning, officials said.
Dedham police responded to High Street near Linden Place in Dedham at about 7 a.m., where the woman was found lying in the parking lot of St. Mary of the Assumption Church, Chief Michael J. d'Entremont said in a statement…
Police are looking at the possibility that solar glare played a role in the fatal accident…

more - https://t.co/i9zapPtBpT


---
Sun Glare Can Be Dangerous for Drivers | WKEF ABC 22
DAYTON, OH -
Driving into the sunset or sunrise might sound romantic, but it can be dangerous.
"It's hard to see," said Terence Howard.
"The glare even with the visor down and your sunglasses on I'm always afraid somebody will pull out in front of me," said Rosalie Rice.
"The sun's lower in the sky at this time of year and it's right in their line of vision so it's kind of hard to get that position so you can see around it," said Cindy Antrican, Public Affairs Manager for AAA.
Nationally, only a fraction of deadly crashes are caused by the sun's glare, 195 out of more than 56,000 fatal crashes a year, according to the National Highway Traffic Safety Administration.
But according to AAA, you should still take steps to stay safe.
"If you're having trouble seeing what's ahead of you, please allow more room between you and that vehicle," said Antrican.
It might seem like common sense, but washing your windshield is one of the best ways to help reduce the glare from the sun.
"The dirt on there can increase the glare and make it harder for you to see," said Antrican.
If you're driving and the glare is just too much, give yourself some extra time.
"If you cannot see, do not pull out," said Antrican. "You just may have to wait a couple of minutes, move your vehicle a little bit, try to get in a better position where you can see.
"Be very cautious, don't go over the speed limit and look out for the other guy because you never know what he's gonna do," said Rice.
AAA also suggests if you're driving away from the sun turn on your headlights so the drivers can see you coming toward them.

more - http://t.co/1MzXpnHTPC


---
Pickup driver in Tillamook County crash that killed cyclist won't face criminal charges via @oregonian
TILLAMOOK COUNTY, OR - A pickup driver who fatally struck a bicyclist on a winding stretch of Oregon 131 will not be criminally charged, said Tillamook County District Attorney William Bryan Porter.
Rather, Frank B. Bohannon, 74, of Oceanside, was cited for careless driving and driving while suspended in connection with the Sept. 19 crash that killed Kerry Lee Kunsman, 67, of San Diego, Oregon State Police said.
According to investigators, Bohannon was driving a 2011 Ford F350 west on the highway near milepost 5 around 5:15 p.m. He rounded a curve and was temporarily blinded by sun glare as he came up behind Kunsman, who riding about 2 feet into the roadway, Porter said…

more - http://t.co/eTQglKzaN3


---
NHTSA: 195 fatalities per year caused by sun glare | WKEF ABC 22
more -
http://t.co/CuxzjQIWhT
---
For Crop-Dusters, a Hidden Danger in the Fields | The Kathryn Report
CRESTON, IA - Van Lucas flew F-16 fighter jets over Iraq and Afghanistan for the Air National Guard, but the idea of returning to Iowa to fly low-powered crop-dusters a few feet off the ground felt like a new level of danger.
"I said, 'Show me every place that you can think of that a crop-duster has been killed or wrecked,'  " recalled Mr. Lucas, 35, who has been flying crop-dusters for seven years. "And that's what we did. I learned how to fly under wires. I learned about wires being in the tree lines."
But in recent years, pilots like Mr. Lucas have encountered a new, rapidly proliferating threat camouflaged among the fields, one that has led to several deaths and, safety officials fear, could cause more.
They are thin metal towers, almost 200 feet high, that wind energy companies use to help gather data on the best places to put wind turbines.
Mr. Lucas first encountered one of the towers in 2009, as he was spraying fungicide at sundown near a mammoth wind project in Adair, Iowa. Suddenly one of the towers, anchored by a web of guy wires, appeared ahead of him.
"I just prayed and pulled. Pulled back on the stick and got out of there quick as I could, hoping I didn't hit it," Mr. Lucas said. "By the time I pulled up, the guy wires were right underneath the airplane."
Towers like these — temporary meteorological evaluation towers, or METs — can be erected in a matter of hours, and at 198 feet, most barely skirt the 200-foot limit set by the Federal Aviation Administration requiring marking and lighting for safety.
At least five people, among them three crop-duster pilots, have died hitting the towers since 2003…
On a clear day in 2013, near Balko, Okla., a crop-dusting pilot named Jason Martin, 34, was en route to spray herbicide on a field and flew straight into an orange MET. The impact tore off part of the right wing, and the plane disintegrated upon hitting the ground. A safety board investigation into Mr. Martin's death concluded that he had not seen the tower because of sun glare…

more - http://t.co/RVg0Qj9EVb


---
AA warns M4 and A55 drivers over low-lying sun glare deaths | WalesOnline
CARDIFF, WALES - The glare of a low-lying sun has contributed to an average of 28 road deaths a year since 2010, according to figures highlighted by the AA.
A major problem in October, around 3,900 road users a year are injured after being dazzled by the sun, the AA said.
In Wales the motoring group said the worst affected roads would be the major east-west routes, including the M4 (South Wales to London), and the A55 (Chester to Holyhead).
The A5, which runs north west to south east between Holyhead and London, can also prove challenging for motorists.
Last year sun dazzle was a factor in 149 accidents in Wales, with Rhondda Cynon Taf the hotspot with 22 incidents, followed by 14 in Neath Port Talbot. The M4 runs through both counties, but the statistics don't reveal how many, if any, of these incidents occurred on this road.
The motoring organisation drew attention to the figures as sunrise and sunset move into the morning and evening rush hours until the clocks go back on Sunday, October 26…

more - http://t.co/tHWVmflzs9


---
Sun's blinding glare blamed for causing 200 road accidents in Scotland | Herald Scotland via @hsnewsbreak
EDINBURGH, SCOTLAND - The glare of the low-lying autumn sun has been blamed for causing more than 200 road accidents in Scotland last year, according to figures highlighted by the AA.
The problem, which becomes particularly severe for drivers as the seasons change in October, was said to be behind 222 crashes across Scotland in 2013…
more - http://t.co/vod4ojdPcN


---
Autumn sun 'kills 28 drivers a year' via @MailOnline
LONDON, UK - Motorists face 'twilight terror' as sunrise and sunset fall in rush hour before the clocks go back.

Glare from the sun is a particular problem in Oct before clocks go back
Around 3,900 road users a year are injured after being dazzled by the sun
Drivers in north west England are worst affected, according to the AA
M4, which takes drivers towards London, is one of the worst for glare
---
Concerns that shadow flicker from proposed wind turbines will distract drivers | Lancashire Telegraph
OSWALDTWISTLE, UK - Plans to build a wind turbine at an Oswaldtwistle farm have been met with anger… John Rawnsley said: "The proposed turbine would be sited close to a main road with a dangerous double bend. The distraction this would cause to drivers and the resulting potential to cause accidents should be considered.
"Also the road, just before the bend, would be subject to shadow flicker, further distracting drivers as they approach a dangerous bend with hidden access roads, bridleways, and footpaths along the route." …

more - http://t.co/qaQBbxX2r1


---
Sun glare cause > WBTV: Two hospitalized in school bus crash near Mint Hill
CHARLOTTE, NC - A school bus crash sent two people to the hospital Friday morning.
The crash occurred near the intersection of Albemarle Road and Wilgrove Mint Hill Road near Mint Hill around 8 a.m. Friday.
Officials say a pickup truck ran a red light and hit a CMS school bus…
The driver of the truck said glare from the sun blinded him and he couldn't see the traffic light…

more - http://www.wbtv.com/story/26696199/bus-crash-injuries


---
Don't need to stare: Sun glare can cause issues in low sky | Augusta Free Press
WAYNESBORO, VA - From now to the end of daylight saving time on November 2 is a deadly time of year for east to west commuters due to the sun's alignment during sunrise and sunset. Drivers should take additional precautions such as leaving additional space between vehicles, wearing sunglasses, making sure their windshields are clean and slowing down, advises AAA Mid-Atlantic.
During October, the sun will rise between 7:04 a.m. and 7:34 a.m. when drivers are headed out on their daily commutes to work and to drop their children off at school. The sun will set between 6:51 p.m. and 6:09 p.m. when commuters are headed home. "It is during the first 15 to 45 minutes of sunrise that sun-glare becomes a serious hazard to motorists," advises the National Weather Service (NWS). "Motorists traveling westbound can also experience sun-glare as the sun drops lower toward the horizon," warns the NWS.
"Just after sunrise and before sunset the sun can shine directly into drivers' eyes, leaving many motorists driving with a blinding sun glare," says Martha Mitchell Meade, AAA Mid-Atlantic's Manager of Public and Government Affairs. "AAA is urging drivers to take preventative measures such as wearing sunglasses, cleaning vehicle windshields, slowing down, and altering commutes whenever possible."
The National Weather Service and AAA Mid-Atlantic provide safety tips to area drivers.

Be aware that drivers traveling toward the sun at sunrise or sunset may be virtually blinded.
Clean your windshield outside and inside. A cracked or dirty windshield can magnify glare.
Wear sunglasses with polarized lenses, or wear eyeglasses with an anti-reflective (AR) coating.
Keep in mind, scratched eyewear makes glare worse.
Heed the speed limit, particularly if you are driving into the sunrise on your way into work or the sunset on your way home.
Increase your following distance beyond the recommended safe distances to allow three or more seconds between vehicles. The more space you have, the more time you have to react.
Turn headlights on so oncoming motorists can see you as they are driving toward the sun.
Use your visor as much as possible, but remember that visors can also block your vision.
Use sun-blocking or shading tools that can provide protection and prevent sun glare.
Consider alternate routes to minimize east/west driving whenever possible. Use north/south streets until you find an east/west road with lots of trees or taller buildings.
Be alert to changing cloud cover and changing traffic flow.
more - http://t.co/Fz6CKkwK3A


---
Drivers urged to slow down as sunrise and sunset move into the rush-hour | The FINANCIAL
TBILISI, GEORGIA - The AA is urging drivers to slow down particularly at sunrise and sunset as AA research reveals that drivers and other road users blinded by the glare of the sun have contributed on average to 28 road deaths a year since 2010.
Dazzle remains a stubborn factor in the injury of a further 3,900 road users each year…

more - http://t.co/UqTkSvZf0S


---
Sheriff Urges Driver Safety with Season Change via @M3PMedia
WAMPSVILLEe, NY – Madison County Sheriff Allen Riley is urging motorists to be aware that with the change of seasons, challenges in your daily driving will increase…
Avoid Sun Glare
With the end of Daylight Savings Time comes reduced visibility. Even on familiar roads, it is important that you use additional caution and adjust your driving habits to the different morning or late afternoon glare from the sun. It can cause reflections off vehicle windows and hoods, and can decrease your visibility considerably…

more - http://t.co/2vQhyCWbpC


---
Glare from a low sun costs 28 road deaths a year | Western Morning News
PLYMOUTH, UK - The glare of a low-lying sun – a particular problem for drivers each October - has contributed to an average of 28 road deaths a year since 2010, according to figures highlighted by the AA.
Around 3,900 road users a year are injured after being dazzled by the sun, with north-west England drivers the worst affected, the AA said.
The motoring organisation drew attention to the figures as sunrise and sunset move into the morning and evening rush hours until the clocks go back on Sunday October 26…
more - http://t.co/ag2QYGOEOW


---
Sun glare blamed for fatal motorcycle crash | Deseret News via @deseretnews
MAGNA, UT - The bright glare of the setting sun is being blamed for a motorcycle crash that left the rider dead in western Salt Lake County.
Investigators said that glare from the sun was responsible for a causing a 57-year-old male rider to rear-end a car on State Road 201…
more - http://t.co/HlL78z0SYF


---
Drivers urged to slow down as sunrise and sunset move into the rush-hour
more -
https://t.co/knv5LYc7kw
---
Freak accident. It all started with intense sun glare | @njdotcom
MOUNT
ARLINGTON, NJ - It all started with intense sun glare.
Police say a freak chain reaction after a pedestrian collision on Seasons Drive ended with a another person — not involved in that first crash — trapped under a vehicle.
Chief Keith Licata said the sun glare for travelers going east on Seasons Drive Monday morning was intense — and police themselves had to proceed with caution as they traveled along the road to respond to a report of a collision…
more - http://t.co/JW8TmYGC4I


---
AA warns drivers of dangers of twilight dazzle | Fleet World via @fleetworldgroup
ST. ALBANS, UK - Drivers are being urged to slow down as AA research reveals that drivers and other road users blinded by the glare of the sun have contributed on average to 28 road deaths a year since 2010.
The organisation says that dazzle remains a stubborn factor in the injury of a further 3,900 road users each year…
Three rules for driving at sunset:

Keep your windscreen clean inside and out – wiping the inside with a cloth dampened in warm water and a little washing up liquid once a fortnight will cut the risk of a screen being blanked out by sun glare.
Slow down immediately – it is tempting to carry on at your current speed hoping that you'll turn out of direct sunlight or that something obscures the glare, but by the time that happens, it may be too late. Use the sun visors rather than rely too much on sunglasses and slow down if you're blinded by sun glare.
Anticipate the effects of glare on you and other drivers – the sun may appear suddenly from behind trees, buildings and other obstacles if you're heading west on major routes or going up hills.
more - http://t.co/hKgumxAnMQ


---
Detectives say the sun could be to blame > Middle Country motorcyclist hurt in crash | Times Beacon Record
EAST PATCHOGUE, NY - A Selden man was seriously injured on Monday afternoon when a car hit his motorcycle on Montauk Highway, and detectives say the sun could be to blame…

more - http://t.co/aWUbgNmXot


---
PennDOT urges drivers to watch out for sun glare, wet leaves during fall season | PennLive
MECHANICSBURG, PA - With fall's arrival, the Pennsylvania Department of Transportation is reminding motorists to use caution and be alert for seasonal travel hazards, such as sun glare, frosty mornings and wet leaves.
Sun glare can affect morning and evening commutes. Because intense sun glare can affect a driver's vision, motorists can prepare by keeping a pair of sunglasses within reach, removing items from vehicle sun visors and by keeping vehicle windshields clean, PennDOT said…

more - http://t.co/E0yAzgqeFw

---
Be prepared for worst sun glare before about 8:25am and after 5:45pm this week on Toronto streets. Sunglasses and visors ready.
---
Worst sun glare conditions occur during rush hour these days.
---
New studies point out dangers of 'talking' to car | Fox News
WASHINGTON, DC – Just because you can talk to your car doesn't mean you should. Two new studies have found that voice-activated smartphones and dashboard infotainment systems may be making the distracted-driving problem worse instead of better…

more - http://t.co/KWtfUrs5VM

---
It's that time of year again when sun-related crashes are way up. Have sunglasses handy, clear your visor and slow down.
---
Sun Glare Might Have Contributed to School Bus Crash in Norwich | NBC Connecticut
NORWICH, CT - Police said sun glare might have been a factor in a crash that involved a school bus and a car just before 8 a.m. on Asylum Street in Norwich on Wednesday morning…

more - http://t.co/hjD4SxAqBh


---
Reflective sun glare obscures driver's vision > Mazda Sued Over Allegedly Defective Dashboards | National Law Journal
Dashboards in some models of Mazda Motor of America, Inc., sedans and hatchbacks are allegedly so defective they melt in the sun, ooze a gooey substance, give off a noxious chemical odor and become so light-reflective that they make it dangerously difficult to see out the windshield, a proposed class action alleges...
Of even greater concern, the car owners say, is the serious safety risk that comes from the way the shiny dashboard reflects the sun, creating a blinding glare that makes seeing through the windshield difficult…

more - http://t.co/CFTRGXHhrs


---
How to Mow Safely Near Traffic | Total Landscape
Care
A Florida landscaper is mowing the grass in a road median about 8:15 a.m. While he is mowing, a mid-size pickup truck approaches the work area. The driver's vision is impaired from the sun glare, and he misses a curve in the road. He veers to the left and drives onto the curbed median. The pickup's windshield and side mirror strike the landscaper, killing him…

more - http://t.co/bVUnyWozHl


---
Sun glare blamed in AM motorcycle crash | @KCCINews
DES MOINES, IA - A motorcycle rider suffered neck and back injuries in a crash Thursday morning.
The crash was reported in the 3500 block of Vandalia Road about 7:50 a.m.
Police said the motorcycle was headed toward the rising sun when a truck pulled out…

more - http://t.co/EduMwFv7Rf


---
Recognizing the Dangers of Being a Pedestrian | SGP Law Blog
The National Highway Traffic Safety Administration show that in the United States alone, there were nearly 5,000 fatalities in pedestrian-related accidents in 2012. The study also reported the total estimated amount of injured pedestrians in traffic incidents was about 76,000…
Drivers can often not "see" a pedestrian because of sun glare or dirty windows. Make sure you and your vehicle are prepared with sun visors and/or sunglasses to decrease light glare, and have your car's windows cleaned frequently, which will increase visibility of pedestrians…

more - http://t.co/fpgOfRfjXn


---
Sun blamed for bus accident in Manomet | Wicked Local Plymouth
PLYMOUTH, MA – Solar glare was blamed Monday after a school bus from Woburn crashed in Manomet…

more - http://t.co/HBJv94HHGf


---
Fatal collision with tractor in Haldimand County - sun low in west reportedly caused visibility problems for EMS | Simcoe Reformer
SIMCOE, ON - Todd Hunt was looking forward to a night of music at the Norfolk County Fair when he collided with a large tractor on Walpole Concession 6 Saturday, Oct. 11…
The most likely explanation, however, involves the sun. At 6:20 p.m. when the crash occurred, the sun was low in the west and reportedly caused visibility problems for emergency workers rushing to the scene. Hunt's family thinks he simply didn't see the tractor coming as he drifted into the eastbound lane…

more - http://t.co/FHvt19AL5n


---
Family of Waterlooville lollipop man still seeking justice for him | Portsmouth News
WATERLOOVILLE, UK - Relatives of Ray Elsmore said they can never accept the events that led to the grandfather's death could not have been avoided.
But Coroner David Horsley said it would have been 'difficult for anyone' to see the 82-year-old standing in the road due to the dazzling glare of the sun on December 5, 2012…

more - http://t.co/5OYw3kPR56


---
Glare from the sun may have been a factor in Kings Mountain Highway fatal crash | WBTV 3 Charlotte, NC
GASTON COUNTY, NC - Two people died in a crash on Kings Mountain Highway late Wednesday afternoon.
Police say accident happened about 6:30 p.m. when a truck slammed into a Honda car while it was making a U-turn….
Police say glare from the sun may have been a factor in the fatal crash…

more - http://t.co/vaJNz7qkuo


---
Attorney Weighs In on News Reports about School Bus Crashes in Fairfield County and Across Connecticut | PRWEB
FAIRFIELD COUNTY, CT - In the wake of a pair of recent bus accidents sending over a dozen school children to the hospital, attorney Jeremy Vishno stressed the importance for all drivers to practice safe driving habits when near school buses, including avoiding dangerous behavior such as texting while driving and other distractions…
A Fairfield Citizen article published October 16, "Nine students hospitalized for minor injuries after Kings Highway school bus collision," revealed that a bus accident on Kings Highway East in Fairfield sent nine middle school students to the hospital. According to the article, the bus was stopped and rear-ended by a car that failed to stop in time.
Just one week earlier, News 3 reported that a school bus accident occurred in Norwich after a jeep crossed the center median on Asylum Street and sideswiped a school bus. The October 9 article, "Norwich bus crash sends 9 students to hospital," indicated that sun glare may have been a factor in the crash, which sent nine students to the hospital with minor injuries…

more - http://t.co/JBHR8oVVs1

---
Add in some sun glare, deadly. MT @SafeDriver: Driving in morning with dew across your windows is a "dew not"! http://t.co/Zls8p2GjKr
---
Sun glare blamed for accident Friday evening in Montgomery Co. | KJAN Radio
MONTGOMERY, IA - Officials say gun glare is being blamed for a non-injury accident Friday evening, in Montgomery County. Authorities say an SUV driven by 16-year old Leatha Renee Bennett, of Red Oak and registered to Fly A Cattle Company, was stopped at the intersection of K Avenue north of Highway 34. When she looked to the west, sun glare caused her not to see an eastbound pickup. When the SUV pulled away from the stop sign, it was hit by the pickup that was driven by 41-year old Robert Allen Childs, of Red Oak…

more - http://t.co/87VDOgslZy

---
@sunposition: @JimmieJohnson Which tracks do you find worst for sun and shade?
> @JimmieJohnson: The late stages at PIR are tough with the sun in your eyes.
> @sunposition: @JimmieJohnson Here's a link to a sun angle diagram I prepared for the Nov 9/14 NASCAR race at Phoenix International Raceway - http://t.co/yU4J1P1s60
---
Winter Driving Means Going Back to the Basics | DriveWise Road Safety
Don't shoot the messenger, but winter is just around the corner. I don't need to tell you what that means, but I will anyways: snow, ice, freezing temperatures … all the good stuff.
Of course, one of the major challenges that comes with this shuddersome season is driving. It's tricky, takes effort and a great amount of patience, not to mention some white knuckles come March or April or even May…
more -
http://t.co/oh7j83FJpd
---
Sunset is at 6:10pm EDT. RT @SouthSimcoePS: Hallowe'en Safety Tips For Kids

http://t.co/54tu63TVWt
---
Sunglasses and visor ready.
RT @TikiBarber: Sun glare beating me down driving home to NJ right now!!
http://t.co/LSQaaTDcyi
---
Fall Driving Offers Challenges | Pathway Hyundai
While most drivers cringe at the thought of winter driving – blizzards, icy roads and the dreaded black ice – drivers should be aware that fall has its own unique conditions to challenge even the most confident driver…
Sun glare makes it nearly impossible to see traffic lights and prevents you from knowing when you are supposed to stop or apply brakes. It affects your sight for several seconds after exposure. Polarized sunglasses may help but even they are no match if the angle of the sun has you temporarily blinded by its glare. Make sure your windshield is clean (dirt or grime causes light to scatter, increasing glare), avoid using high-gloss products on your dash that can increase reflection and slow down, especially in heavier traffic…

more - http://t.co/IyQbwgnaew


---
Drivers: Be extra careful during your commute after the time change b/c the sun will have "moved" from what you're used to.
---
Here's a link to a sun angle diagram I prepared for the Nov 9/14 NASCAR race at Phoenix International Raceway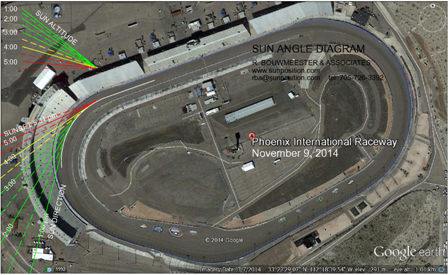 image by Ralph Bouwmeester
NASCAR Sprint Cup driver and six-time champion, Jimmie Johnson, told me via Twitter on October 25, 2014, that "The late stages at PIR are tough with the sun in your eyes."
Of course, I wanted to see how the sun angles look at Phoenix International Raceway (PIR) so I prepared the diagram below to illustrate the case. The next race scheduled at PIR is on Sunday, November 9, 2014, beginning at 1:00 pm MST (3:00 ET) - this is the last race in the Eliminator Round and the last race before the Championship Race at Homestead-Miami on November 16th.
The diagram below shows the sun angles at PIR for the November 9th race.
Looks like Jimmie was absolutely right... was there ever any doubt??
Click the above image to enlarge.
more - http://t.co/yU4J1P1s60


---
Cheers, Ralph