The following relate to the dangers of sun glare while driving, and traffic safety in general. They were derived from our twitter feed @SunPosition

---
Read our weekly news summary "Sun Glare and Driving" at:
http://paper.li/SunPosition/1376354290
---
RT YoungDriversofCanada @YoungDrivers The Fall Back time change can cause traffic collisions. Read more at
https://www.yd.com/blog/fall-back-time-change-may-cause-collisions/
A study conducted by the Insurance Bureau of British Columbia (ICBC) revealed that the two weeks following the end of daylight savings time resulted in a 16 per cent increase in the average number of vehicle collisions in the late afternoon commute of motorists...

> @YoungDrivers Plus, sun conditions will be quite different after the time change. Anticipate and adjust. https://t.co/4wq90RIkOY

---
RT Shane O'Connor @oconnorshane Bowie Patch: Schools Ban Bus Drivers From Texting While On Road
> @oconnorshane seriously? It's sad when the only way to stop texting is by banning it.

http://patch.com/maryland/bowie/schools-ban-bus-drivers-texting-while-road-0

Prince George's County Public Schools bus drivers now face the loss of their jobs if they use cell phones while driving.
Prince George's County school officials have changed policy to make texting while driving a school bus an infraction that could result in a driver's firing.
The change was made this week after NBCWashington recently shared video of a county school bus reportedly texting while driving students…

---
Reminder to drivers - due to the time change , sun conditions will be completely different this week from what you're used to.
---
RT PennDOT ?@PennDOTNews Keep your visors clear of clutter! Sun glare can blind you in an instant. See
http://goo.gl/8txkGQ
for more fall safe driving tips.
> Safe driving tips for Fall from @PennDOTNews
https://t.co/hlaYxwyqnH
PennDOT reminds motorists that wet leaves, fog, sun glare and frost are a few driving hazards that they will encounter this fall but there are steps drivers can take to help make their commutes safer…
Sun glare can be most problematic during sunrise and sunset which coincide with morning and evening rush hours. The intense glare from the sun on the horizon can blind a driver, causing an unexpected traffic slowdown…
---
RT Scott Marshall @SafeDriver Driving into the sunset (or sunrise) isn't always romantic. Here's a few tips to help drivers with the glare;
image via http://bit.ly/18TG0aR
Driving toward the bright sun isn't always relaxing and driving into the sunset isn't always romantic. Sometimes it can be blinding. Even though that's the case there are a few things we can do to help make driving safer in those conditions.
The most common thing drivers do when they're faced with bright sunshine are sunglasses. Wearing a pair of sunglasses will help to block the glare, not just the brightness. They help you focus on the things you need to while driving, including the traffic lights, pedestrians, road signs and other road users….
Other than sunglasses, don't forget about the sun visor to help block the sun...
Sometimes the sun can be high enough to not really bother us, but the added glare from the sun can make it difficult for us to see properly while driving. To help reduce this glare, ensure you clean the inside of your windshield regularly. Using a glass cleaner will help get rid of the grime that seems to gradually build up over a period of time. If you allow smoking in your vehicle, cleaning the inside of each window every few weeks will make a huge difference.
Here's the second worst case scenario. You're heading toward the sun with sunglasses on, the sun visor lowered and the inside of the windshield clean, but the sun is below the visor and it prohibits your view, what can you do? If you always keep a hat with a brim, such like a baseball hat it can help to shield the sun while you drive…
Regardless of all the things you've done to help keep your visibility while driving toward the bright sun, it's getting tougher to see clearly from that glare, what do you do? Pull over to a safe place and wait for approximately 15 to 20 minutes until the sun has gone behind the buildings or trees. Once that happens, you know you're good to go again…

> Thank you to Scott Marshall for the great tips.

---
Time change hazards for driving -
https://t.co/DYkkdO0B3k
Every year when the time changes occur, in the spring and fall, the risk of commercial motor vehicles being involved in a crash increases. The change in sunlight hours can be disruptive to a driver's routine and increase the likelihood of a crash, such as a rear-ending or lane change crash.
Two hazards associated with the time change season are sun glare and reduced visibility. During these periods, the angle of the sun changes which can create sun glare that is problematic to all drivers. According to the National Highway Transportation Safety Administration, sun glare contributed to 16.4% of crashes…

---
Sun glare partially responsible >
Car accidents on Grand Island Bridge cause severe delays - https://t.co/1sznmPP6Zk via @WGRZ

Some people's already busy morning rush was delayed even further after several car accidents on the I-190 Monday morning.
State Police say there were at least six car accidents on the Southbound South Grand Island Bridge. The accidents caused both lanes to be closed and severe backups.
Three of the accidents involved multiple cars. They took place about a quarter of a mile from the base of the bridge.
Police say the sun glare was partially responsible…

---
RT @NHTSAgov cautions clock adjustment may catch drivers by surprise - sun glare or darkness at different parts of familiar drive.
---
RT LititzDailyNews.com @LititzDaily Was End of Daylight Saving Time a Factor in Lititz Pedestrian Fatality?
http://tinyurl.com/p2krhak
The accident came one day after the end of Daylight Saving Time, during what is reportedly the most dangerous week of the year for pedestrians. Just two days prior, there was still waning daylight at 5:45 p.m along Woodcrest Avenue.
But after the abrupt end to Daylight Saving Time early Sunday morning, the sky would be dark along the popular street for joggers, bike riders, and pedestrians when Grover and her canine companion crossed the road Monday night.
Could the sudden end to Daylight Saving Time have been a factor in the accident? Tonight, the sun will set at 5 p.m. in Lititz, as family and friends of Karen Grover grieve her passing…
The NHTSA also cautions that the clock adjustment could catch some drivers by surprise – with sun glare or darkness occurring during different parts of their familiar driving routine.
According to a 1995 study, a change from daylight to twilight was associated with about a 300% increase in fatal pedestrian crashes. Based on their findings, the authors of the study predicted that retaining Daylight Savings Time year-round would save an average of 180 pedestrian lives each year…

---
According to 1995 study, a change from daylight to twilight was associated with about 300% increase in fatal pedestrian crashes.
---
Sun glare being investigated >
One woman killed, another injured in South End crash - Boston News | https://t.co/UEDmNe6kzO

RT antoinette antonio @antoinetteA Driver says sun blinded her just before she hit two women, one died.

Sun glare may be to blame in fatal crash | WCVB Home https://t.co/JbpB9Uy2jC via @WCVB

BOSTON - Two older female pedestrians were hit in the South End Wednesday afternoon, and one of them has died.
Police said the two were hit at Tremont Street and West Brookline Avenue...
Now investigators are trying to figure out if it was sun glare that caused the crash. No charges have been filed against the driver...

---
Sun glare + frost on windshield >
High-collision location - Williams Lake Tribune https://t.co/dihCiI3s1I via @BlackPressMedia


---
RT Today's Country 95-5 ?@country95 Driver involved in Whoop-Up collision in critical condition. Sun glare may be contributing factor in crash...
http://fb.me/vPGB0bvP
Emergency crews respond to a two-vehicle collision at the intersection of Western Avenue and Johnson Street Tuesday morning. Williams Lake RCMP Staff Sgt. Del Byron said the motor vehicle incident occurred at approximately 8:15 a.m. when a southbound driver on Western Avenue ran through the stop sign obscured by frost on the windshield and the morning sun's glare and T-boned another vehicle...

---
NASCAR drivers planning for sun glare @PhoenixRaceway need to know this -
https://t.co/yU4J1P1s60
Jimmie Johnson: "The late stages at PIR are tough with the sun in your eyes."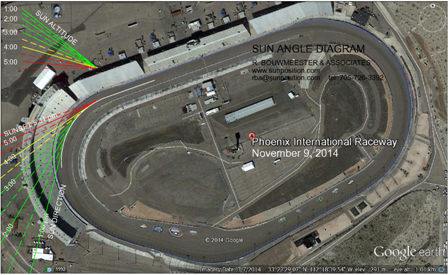 ---
Environmental conditions, including sun glare, are believed to have contributed to crash in Lethbridge -
https://t.co/GxiWon7PBF
On Nov. 13, 2015 just after 3:30 p.m. police and paramedics responded to a report of a collision in the westbound lanes of Whoop Up Drive near the University Drive exit. Investigation determined a Pontiac Montana collided with the back of a wheeled loader that was in the process of removing snow from the roadway. The 72-year-old male driver of the mini-van sustained life-threatening injuries and after being extricated from his vehicle he was transported to Chinook Regional Hospital. He is currently in critical condition and not expected to survive. The driver of the loader was not injured.
Speed and alcohol are not considered factors in this collision, however environmental conditions, including sun glare, are believed to have contributed to the crash...

---
Deer season. Sun glare can make it very difficult to see deer that are about to cross the road >
Morris County Motorists Should be on the Alert During Deer Rutting Season - https://t.co/Uw6iMw8zik

State wildlife officials are reminding motorists from across Morris County, from Lincoln Park and East Hanover to Jefferson and Long Valley, to be alert for white-tailed deer crossing their roads with the arrival of the fall breeding season, a time of year when deer may unexpectedly dart onto roads and cause accidents.
Motorists are urged to be especially attentive during morning and evening commutes when visibility may be poor, according to experts from the state Department of Environmental Protection's Division of Fish and Wildlife...
During rutting season, deer are most active in the very early morning hours and around sunset, when visibility conditions can be very difficult. This is when bucks are most actively pursuing does thus aligning commuting times with periods when deer are most active.
Low levels of light and sun glare can make it very difficult to see deer that are about to cross the road. Moreover, multiple deer may cross the road at any given moment, usually in a single file…

---
Plan to remove crosswalk with sun glare problems >
LAH City Council addresses traffic safety concerns
https://t.co/yYadyKaMj6
Days are potentially numbered for a contentious crosswalk used by some Gardner Bullis School students to cross Fremont Road.
During their monthly meeting Thursday, Los Altos Hills City Councilmembers voted unanimously to instigate a 30-day public notice period announcing their intention to remove the crosswalk, located on the east side of Fremont Pines Lane in front of the school. The crosswalk is the site of at least one vehicle-versus- pedestrian accident and several near misses.
Sun glare obscuring eastbound motorists' visibility is a likely cause of the traffic incidents, according to a city staff report. Last year, an accident involving a student cyclist struck by a car prompted city officials to relocate the crosswalk from the west side of Fremont Pines Lane to the east side and to install a flashing crosswalk sign, but accidents persist. Councilmembers Thursday indicated that removing the crosswalk would force pedestrians to cross Fremont at nearby intersections marked by stop signs...

---
Cheers, Ralph