The following relate to the dangers of sun glare while driving, and traffic safety in general. They were derived from our twitter feed @SunPosition
---
Toronto Police launch pedestrian safety campaign after time change | CityNews
TORONTO, ON - Toronto police launched a week-long pedestrian safety awareness campaign on Monday following the time change over the weekend…
Daylight Saving Time ended this weekend with clocks going back one hour. Police say November has "traditionally been the month when pedestrians are involved in the most collisions."…
source - http://t.co/2FyymUddYK
---
Drivers and pedestrians, making eye contact is so simple to do.
---
Drivers: Be extra careful during your commute after the time change b/c the sun will have "moved" from what you're used to.
---
NASCAR Sun Angle Diagram - Phoenix International Raceway, Nov 9/14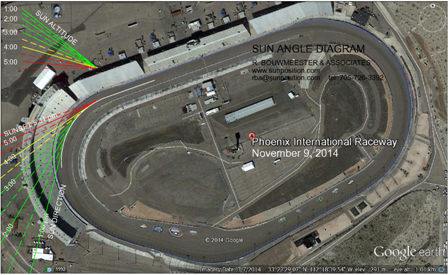 source -http://www.sunposition.com/NASCAR/NASCAR_Sun_Angle_Diagram.html
> Drivers may have to deal with low sun late in Sunday's NASCAR race at Phoenix Raceway
> Low sun could make things interesting late in today's NASCAR race at Phoenix Raceway
---
Watch Out for Fall and Early Winter Driving Hazards | via @OConnorLaw09
Since daylight savings time is now over and the clocks have rolled back we are pretty deep into the fall season. As winter approaches and we get less sunlight each day, there are some driving hazards that come up this time of year that we didn't have to deal with during the summer.
Sun glare now coincides with many people's morning and evening commutes. For many this is during rush hour traffic, the amount of people on the roads and the dangers of being blinded by the sun while driving can make for a pretty bad situation.
Keep your sunglasses handy where you don't have to reach or look around for them while driving and remove items from your sun visor so you can put it down when needed. Also remember that dirty windshields can reflect sunlight and cause a glare that can be hard to see though, so keep your windshield clean.
Frosty mornings and wet leaves can turn any road into a slippery situation. Since the leaves are falling and the temperatures can drop below freezing at night, keep an eye out for slippery roads. Since winter is coming this is a good time to check your tires to see if they need to be replaced.
Stay safe this fall.
source - http://t.co/qW7dnlolwo
---
Sunrise, sunset: Driving tips to keep you safe during both events | Wheels.ca
TORONTO, ON - Last week there was a spate of truck collisions, primarily on the 401, that brought traffic to a standstill throughout the GTA. The last report I heard was the cause may have been these drivers were blinded while driving into the early morning sun.

But we can't really blame the sun for this. Alas, it is the driver's fault.

Everyone knows there are two times each day that we risk facing directly into the sun while driving. When the sun is right on the horizon it can be very difficult, sometimes almost impossible, to see where you are going.

Two winters ago I was involved in a near-miss situation in which a motorist in an SUV stopped dead in his tracks on Hwy. 48. He was blinded by the sun setting directly on the road as the highway angled uphill just outside of Coboconk.

The vehicle in front of me saw the stopped SUV at the last second and swerved towards the ditch just in time. I was prepared for driving into the sun and saw this close encounter unfold in front of me. My sunglasses were already in position and my speed had been reduced due to the limited visibility.

Before you strap yourself into your vehicle, a simple check of the time and weather can tell you if you will be driving directly into the sun at some point during your travels. There's no need to be caught off guard while hurtling down the highway at about 30 metres per second.

Here's how you should prepare for the likely event that the sun will rise and set every day. All sarcasm aside, it's serious business:

1. Look farther up the road and stay focused on your driving so you can know ahead of time when you may be turning to face directly into the sun. Think ahead and be ready.

2. Have good sunglasses at the ready. By this I mean within a seconds' reach and not stuffed away in the glove box, purse or sliding around the floor of the vehicle. Ideally, keep them on your head, ready to be swung down in a split second when needed.

3. Expect traffic to slow when you do head into the sun.

4. Be prepared to pull off the road in a safe place if you still can't see. Don't stop on the travelled portion of the road as the driver in the aforementioned SUV did. The sun will rise high enough or sink low enough in a few minutes to allow safer driving. Be patient.

5. Your car's sun visor should be lowered when needed so the sun is blocked.

6. Try not to look directly into the sun but towards the edge of the road. Looking directly into the sun can cause eye damage.

7. Reduce your speed to reflect the fact that visibility is compromised. You don't have to slow to a crawl but slow down enough to compensate for reduced visibility.

8. Leave a bigger gap between you and the vehicles in front of you and remember to keep an eye on your rear view mirrors for any vehicles rapidly closing in from behind.

9. Keep your windows clean, especially the inside of your windshield. Off-gases from the vinyl dashboard will start to coat the inside surface of your windshield with an opaque film that greatly reduces visibility when the sun shines directly on it. It is much worse for those who smoke in their vehicles. A good quality glass cleaner or a simple mixture of vinegar and water will clean this film off.

10. Put your headlights on, (not just your DRLs), not so much for the light ahead of you but for your tail lights, which only come on when your headlights are on full. Having your tail lights on will enable motorists behind you to see you better.

source - http://t.co/XXaVvqca8J
---
Sun glare suspected as cause >
Two sent to hospital after two car accident on East Main Street this morning | Record-Journal
MERIDEN, CT - A two car accident on East Main Street at the intersection of Swain Avenue sent two people to the hospital and closed one side of the road for about an hour this morning.
Police said the accident happened shortly after 7 a.m. Two people were sent to Yale New Haven Hospital, police said.
The accident is under investigation, but police said sun glare appears to have been a factor. One officer said as police were responding to the accident, they had trouble with the sun glare as well…
source - http://t.co/l2cIK2Hr45
---
"Sun glare was a major factor" >
School Bus Rear-Ended in Winchester | Your4state.com
WINCHESTER, VA - The Frederick County Sheriff's Office is investigating a school bus accident in Winchester.
The call came in around 7 a.m. on Wednesday morning for an accident involving a school bus with 12 children on board. Crews responded to the scene at Robin Hood Circle off of Northwestern Pike. This was one of three accidents that took place on the same road on the same day.
As the bus driver was making a routine pickup, she was rear-ended by another vehicle. That vehicle was then rear-ended as well. The driver who was sandwiched between the third vehicle and the school bus was transported to a local hospital for minor injuries.
All children were safe and transported to school.
Witnesses and the deputy who responded, Deputy Bryan Smith, said the bad glare from the sun, as well as speed, played a factor in the accident.
"It's under investigation - however, I've come to the conclusion that the sun glare was a major factor due to everybody's witness accounts, and even me personally responding there," said Deputy Smith. "The sun glare was very bad - you couldn't see three feet in front of you, so it's very fortunate that it wasn't worse than it was."
Deputy Smith is asking vehicles to take their time, and use their visors on that stretch of road to avoid future accidents.
source - http://t.co/8WOEUILzUu
---
Bicyclist struck in Mendham, sun glare blamed, police report >
Bicyclist Hospitalized After Being Struck by Car in Mendham, Cops Say | NJ Patch
MENDHAM, NJ - A bicyclist suffered injuries to his legs after being struck by a turning car on East Main Street in Mendham Wednesday afternoon, police said…
An investigation and witness statements revealed the car was turning left at the location when the bicyclist was riding on the side of the road, police said. The driver of the vehicle did not see the bicyclist due to sun glare, police said…
source - http://t.co/wpDuG41P9l
---
Hard to argue sun glare when you have time to adjust >
Shrewsbury van driver was dazzled by sun in death crash | Shropshire Star
WREXHAM, ENGLAND - A Shrewsbury van driver involved in a fatal crash told a court he was dazzled by sunlight and didn't see the Land Rover Freelander in front of him until after he had hit it…
A forensic collision examiner concluded that the defendant was travelling at between 44mph and 51mph, he would have had a clear and unobstructed view of the collision scene for 240 metres, which would have been more than ten seconds.
It was the prosecution case that defendant would have had time, given the glare of the low sun, to adapt or modify his driving. He could have used the sun visor, reduced his speed, or if necessary, stopped his vehicle…
source - http://t.co/UcvNj6KNHS
---
Sun blamed for head-on crash on S.E. 37th in Topeka KS | Topeka Capital-Journal
EAST TOPEKA, KS - The bright morning sun was believed to have contributed to a head-on crash that sent one person to a local hospital with injuries not believed to be life-threatening early Monday in East Topeka, authorities said.
Emergency crews were sent at 8:03 a.m. to the 1000 block of S.E. 37th, where the crash was reported.
An Economy Sewer Service box truck that had been traveling east on S.E. 37th collided head-on with a silver, four-door Ford Taurus that was headed west on S.W. 37th.
Police Sgt. Andrew Langdon said the truck driver reported the glare of the sun was in his eyes as he came over the hill, moments before the collision…
source - http://t.co/wCdwIxOR49
---
Driver didn't see disabled vehicle due to low sun >
Delivery driver's remorse over crash death | News North Wales
MOLD, UK - A delivery driver convicted of causing death by careless driving expressed "genuine remorse" and wished to express sincere apologies to all who had been affected by the tragedy.
Robert Malcolm Jones, 48, of New Park Road, Shrewsbury, was cleared of the more serious charge of causing the death of Kenneth Gordon Brereton, 69, by dangerous driving…
Mr Brereton, a farmer of Rossett Hall Farm, Rossett, was an experienced driver who owned a Landrover Freelander which he regularly serviced and did not cause him any problems.
On the morning of February 6 last year, he was driving to his late mother in law's house with his wife, who was in the passenger seat.
Without warning the clutch failed on the Llanypwll link road. The vehicle stopped with its hazard lights on and it presented an obvious hazard to other road users, the judge said.
Jones, who was driving his employer's van from Buckley to Shropshire, was diverted to a factory and turned onto the link road.
Mrs Brereton was unaware of the approaching van as she reached down for her handbag to get her mobile phone, the judge said.
The van hit the vehicle from behind causing it to flip over and land on its roof on the verge. Mr Brereton suffered serious head injuries from which he later died and Mrs Brereton sustained unpleasant injuries from which, to some extent, she was still suffering…
No one saw the van brake lights come on and the defendant himself did not say he braked. "He has always said he simply did not see the Landrover. He attributes that to the sun shining very low ahead of him," the judge said.
There were no other factors involved. The only distraction was the bright sunshine, the judge said.
The van's speed was 46 or 47 mph which was not in any way excessive and the defendant had plenty of time to see the Landrover – some 10 seconds over 240 yards.
"The road surface was dry with no glare from the road but the fact there was glare from the sun was plainly proved by the evidence," the judge explained.
According to the Highway Code, a driver should slow down or stop if their visibility was affected by the sun.
Jones had sunglasses on but did not put down the sun visor and did not reduce his speed…
source - http://t.co/xsy1X6Rx1t
---
Riding Into the Sunset...Safely | The Mallard Law Firm
SARASOTA, FL - One of the most amazing things about owning a motorcycle in Sarasota is being able to go for a ride during a beautiful Gulf sunset. Unfortunately, this can also be one of the most dangerous times to take your bike for a spin, so we wanted to share three simple tips for staying safe on a sunset ride.
Consider Your Visibility Disadvantage, and Stay Slow

Keep Your Visor Clean and Clear

Stick to the Edge
source - http://t.co/CoiA2DC2Ay (click to read more)
---
Sun Could Be To Blame For Accident in Corpus Christi Department Store Parking Lot | Kiii News
CORPUS CHRISTI, TX - A Walmart employee was hit by a vehicle in the parking lot of the store along the 6100 block of Saratoga around 7:00 AM Friday morning. The 18-year old employee only suffered minor scratches and bruises.
According to the Corpus Christi police department the driver of the car says they couldn't see the man pushing carts because of the severe glare from the sun.
The driver was not given a ticket. Police say when the glare from the sun is severe to please slow down and drive carefully.
source - http://t.co/DX28z6x0fF
---
Cheers, Ralph