The following relate to the dangers of sun glare while driving, and traffic safety in general. They were derived from our twitter feed @SunPosition
---
Seeing a dog hang out a car window is cute. Jumping out, not so much. Happened right in front of me. Seemed to be OK.


---
RT Cellino & Barnes @Cellino_Barnes Sun glare may have been a factor in NYC accident where ferry struck kayakers
"Authorities are looking into whether sun glare was a factor in an accident in which a ferry departing a pier slammed into a group of kayakers, critically injuring one and knocking some into the Hudson River.
Ten people in eight kayaks were paddling down the river on Tuesday evening on a sunset excursion when they were struck by a NY Waterway ferry, New York Police Department Inspector David Driscoll said."…
"Authorities don't know what caused the crash but said they were investigating whether sun glare played a role.
"When you're driving the same thing happens," Driscoll said. "When that sun is low in the sky you get a glare condition, and where you get blinded on the road sometimes the same conditions could exist on the water.""…
---
Police: Sun glare likely cause for Orange County crash as teenage driver was adjusting visor >
…"A two-car accident on Route 17K in the Town of Montgomery on Monday morning claimed the life of an 87-year-old man. He was identified as George Gisselbrecht of Salisbury Mills, who was a passenger in a car driven by his wife, Mary, 85. She was listed in Critical Condition at Westchester Medical Center.

The accident, just before 6:30 p.m., when a 16-year-old female, driving in the opposite direction near Berea Road, drifted into the opposite lane and crashed into the other vehicle. She was taken to Orange Regional Medical Center in the Town of Wallkill and listed in stable condition.

Police are listing sun glare as likely cause for the crash as the teenage driver was adjusting her visor."
MidHudson News - https://t.co/DW6dHcvlNp


---
Watch for school buses and excited kids on their way back to school. They will be out during low morning sun.


---
RT planetizen @planetizen How U.S Road Safety Compares to Other Countries
"The Economist follows on recent news about a jump in traffic fatalities around the United States to offer some international perspective: "By most counts America has the worst road-safety record in the rich world.""…
---
Inquest hears Westport cyclist's death was instant - Verdict: accidental death | The Mayo News
…"The inquest into his death heard that the driver of the vehicle, Nicola O'Rourke was blinded by the glare of the sun and did not see Mr Walsh before the collision which occurred at approximately 11.30am."…
"Ms O'Rourke told the inquest she had been travelling from Westport with her son, Oisín, and she remembered taking a bend and being 'completely blinded by the sun'."…
"Garda Denis Egan arrived on the scene around 11.57am and noticed a strong glare from the sun. At 12.55pm, Dr Jerry Cowley pronounced Mr Walsh dead.

A test for alcohol that was performed on Ms O'Rourke proved negative.
Audrey Ní Fhearghail, who came on the scene, said that while driving she had to put on her sunglasses because of the glare of the sun."…
---
Time of year for low sun on E/W streets >
Carbondale church-goer killed by neighbor's car | The Times-Tribune
"A 66-year-old woman on her way to church died Tuesday morning in Carbondale after a car driven by her neighbor struck her in a crosswalk.
Elizabeth Ann Tolan, of Green Street, died shortly after the 7:30 a.m. crash on Fallbrook Street, Lackawanna County Chief Deputy Coroner Jesse Van Deusen said. She was walking in the crosswalk on her way to Our Lady of Mount Carmel Church, Police Chief Brian P. Bognatz said. An autopsy is scheduled today.
The driver, 61-year-old Joseph Masco of Hammond Avenue, told police that a sun glare hampered his vision.
Police still are investigating, but the chief said his statement seems to match up.
"The sun would have been directly in his eyes as he came down," Chief Bognatz said."…
---
Sunglare reminder from the RCMP >
RT Adam MacVicar @AdamMacVic RCMP say time of day played a factor into the collision, and are reminding drivers/pedestrians to pay attention to sun glare on the road.

https://t.co/pl1xZHlRyD


---
Sun Glare Blamed In Deadly Collision With Wheelchair | CBS Denver
"Police blame sun glare for a deadly crash that killed a man in a wheelchair in Lakewood on Friday morning.
The collision between the man in a wheelchair and the SUV happened at West 14th and Reed Street.
Investigators said the man in the electric wheelchair was traveling westbound in an eastbound traffic lane."…
---
Sun glare one of the issues >
Middletown fire officials call for changes to intersection | WFSB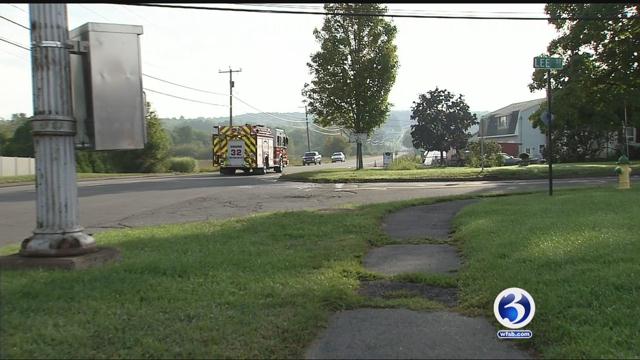 "People who live along Randolph Road and Lee Street in Middletown say the area is notorious for accidents.
The fire chief, whose station sits along both roads, says it's downright dangerous; and while there have been calls for changes to the traffic light, one state agency has firmly said no.
Officials said there have been 15 accidents in the last six years, all in the area around Lee Street and Randolph Road, an area near two schools.
Middletown South Fire Chief Rob Ross has been sounding the alarm to get the Department of Transportation to change the flashing signals that are in the area.
"When you look at everything in the intersection, the angle of the side street, the proximity of the firehouse, the various times of year where the sun is either coming up in the morning or setting in the afternoon, I think there are a lot of things in the intersection that make it inherently unsafe," Ross said.
Firefighters have control of the lights to stop traffic for emergencies, but drivers on Lee Street say they can't clearly see oncoming traffic without jumping into Randolph Road.
Then there's sun glare, which Ross says was a factor in a crash that happened in the area on Aug. 12.
The DOT did investigate the intersection in 2013, taking into account crash data, traffic, among other factors and denied the city's request."…
---
Rising or setting sun blinding your commute? Here's why | via @KIRO7Seattle


…"The bright sunrises and sunsets have been blinding drivers — making it difficult for some to see during their commute.
KIRO 7 meteorologist Nick Allard explains that as we approach the fall equinox — where night and day are nearly equal in time — the sun is getting lower and lower in the sky each day. This is why drivers going eastbound in the mornings and westbound in the evenings are noticing it.
KIRO 7 News contacted the WSDOT, asking what drivers can do to drive safely when they are on the commute.
Here are the tips they gave:
Do not follow the cars in front of you too closely.
Have sunglasses. Even on rainy days, during this time of year, rain can go away and the sun can come back and be bright.
Use your sun shade.
Most importantly, slow down for conditions. For example, if it's raining, leave extra distance so you'll have plenty of room to slow down.
For drivers looking for a less shiny commute: Daylight Saving Time ends on Nov. 6, meaning that it will be dark for early evening commuters."
---
Low sun coincides with kids walking to school these days >
Girl hit by car near school | via @Q13FOX

"A 12-year-old girl had to be airlifted to the hospital after she was hit by a car Wednesday morning in front of Camelot Elementary School. According to the King County Sheriff's Office, the child suffered serious injuries and was taken to Harborview Medical Center in Seattle.
Few details about the crash were immediately released, but officials said the girl was about 20 to 30 yards away from the crosswalk when she ran across the street. She was on her way to Kilo Middle School when she was hit by a teen driver heading to high school.
King County Sheriff's Sgt. Jason Houck told Q13 News the "driver involved in the accident wasn`t doing anything wrong," and that the driver was not speeding in the school zone nor was she impaired.
However, some people do wonder if the sun's glare played a role in the crash."
"I leave pretty early and the sun is coming up about that time," said Rebecca Richards who has a student at Camelot Elementary."…
---
RT Scott Marshall @SafeDriver Should residential speed limits drop? The government thinks so. Are there pros & cons for this? This explains; https://t.co/HDh679PeTn


>Great article Scott.
---
RT CAA @CAA Hazards like pets, sun glare, heavy traffic, and pot holes can cause distracted driving. Learn more here http://bit.ly/29rmiZu


---
Hang up, don't bang up!


---
No citations given for crash caused by blinding sun | The Argus Observer
"A setting sun was the cause of an accident on East Idaho Avenue Thursday evening as vehicles were stopped at stop light.
At 1998 Chevrolet Blazer was traveling west on East Idaho Avenue in the right lane toward the Interstate 84 overpass when driver Timothy Gallagher, 58, of Sandy, was blinded by the sun, according to an Oregon State Police report.
Some vehicles ahead of Gallagher were at a stoplight and Gallagher did not see them stop. He collided into the back of a 2005 Dodge Caravan, driven by Jovanna Vargas, 26, of Ontario, police said. The collision pushed the Caravan into the back of a 2013 Hyundai Elantra driven by Amber Suing, 29, of Payette, the report said.
All parties involved complained of pain, and Vargas was transported to Saint Alphonsus Medical Center-Ontario by Treasure Valley Paramedics for observation, police said.
No citations were issued due to the circumstances. Consistent statements regarding the blinding sun were made by all parties involved in the crash, according to police."…
---
Simple, genius >
To avoid 'doorings' cyclist wants drivers to do the ""Dutch Reach"" via @BostonGlobe @jen_keesmaat
"Michael Charney wants you to do the Dutch Reach.
The 70-year-old retired doctor, who lives in Cambridge, is spearheading a grassroots public information campaign to encourage drivers exiting their vehicles to use their right hands to open their car doors.
Charney claims that by doing so, it forces motorists to turn their bodies, and check their mirrors and look over their shoulder for oncoming cyclists. The method, he said, could help avoid what can often be fatal collisions referred to as "doorings," or being "doored.""…
>And the Dutch know a thing or two about cycling @BostonGlobe @jen_keesmaat

>This is what a commuter lot looks like in Holland. How many acres needed if cars? @BostonGlobe @jen_keesmaat
>RT Howard Chang @adcycle: Spending time in Amsterdam and Copenhagen gave a glimpse of what we can be
---
Contrast between sun and shade is extreme these days. Pedestrians, assume drivers can't see you.


---
Drivers, watch for pedestrians in 'black holes'. Contrast between sun and shade is extreme these days.


---
Police: Use Caution When Driving Into the Sun | OzarksFirst
"An accident involving three students from Monett sent two girls to the hospital Monday morning. Police said a 16-year-old driver had turned East on Sycamore as the ten and 13-year-olds were crossing the road. Both girls were taken to the hospital but have since been released. The driver was not hurt.
The Monett Chief of Police said this should be a message to drivers because he said the sun is to blame for the accident.
"Almost everybody at some point at some time has been affected by sun blinding if you've been driving for a long time," said Chief George Daoud, Monett Police Department.
Daoud said sun blinding occurs frequently.
"That is when the sun is directly in the eyes of a driver and they cannot see what is going on in front of them for a very far distance," said Daoud.
Daoud said it happens often for a period of 15-20 minutes at a time during sunrise and sunset.
"Fall time of year and springtime is really bad because it's whenever everybody is driving to and from work, to and from school," Daoud said.
He said it can affect everyone."…
"Daoud suggests adjusting to the environment that's around you and taking your time when the sun is blinding you.
"Through a combined effort of people taking their time during these periods of sunlight that's hitting them in the face and giving a little more space we can all have a more safe commute," said Daoud.
Daoud also suggests taking an alternate route or driving at a different time to avoid sun blinding. If you're unable to he suggests investing in polarized sunglasses to reduce glare, using your sun visor, keeping your windshield clean, and ensuring your windshield has no cracks. Also, he suggests refraining from storing papers or other objects on your dashboard."
---
Scott, do you have any advice for keeping other drivers from filling the gap? @SafeDriver
>RT Scott Marshall @SafeDriver: @SunPosition Can't really keep someone from coming over, but you can see their movement sooner with these tips; https://t.co/55npap9WkF
>Great advice once again Scott. Thank you @SafeDriver

---
Drivers beware, time of year again when sun rises/sets along E/W roads >
Blinding sun to blame for Abilene accident, injuries | KTXS
"Abilene Police say a driver of a SUV heading east down North 12th Street was blinded by the rising sun Tuesday morning and ran into a parked pickup truck near the intersection with Grape Street.
The driver of that truck was outside of the vehicle at the time. He was standing between the truck and the flatbed trailer it was connected to, working on the break lights.
The driver of the SUV. says she did not see the truck as she was driving into blinding sunlight, and hit the pickup, which then pinned the driver between the back of the truck and the trailer."…
---
Glare of sun causes accident on Windsor Lane | Leader & Times
"Two cars were towed away from Windsor Lane in Liberal as the result of a rollover accident Tuesday morning.

Responders were called to the incident at around 8:22 a.m.

"Emergency responders were dispatched to a rollover accident at the 2000 block of Windsor Lane," a report from Liberal Police Department Captain Pat McClurg noted. The responding officers located a white 2010 Ford Fusion which had rolled onto the driver's side,

"Investigating officers determined that the 20-year-old female driver of the Fusion was going east on Windsor Lane when she became blinded by the sun," the report noted. "The vehicle sideswiped a parked 1998 Dodge Ram pickup, which caused the Fusion to roll onto the driver's side."

Both vehicles ended up with disabling damage. No injuries were reported."
---
RT Drop It And Drive @DropItAndDrive 9 Ways to Improve Your Focus Behind the Wheel http://bit.ly/DIAD09212016


"Human error is responsible for the vast majority of vehicle crashes on our roads. While some of these errors are due to irresponsible or reckless driving, many of them are simply due to a lack of attention. When we operate a motor vehicle, we are responsible for the safety of our passengers and all of those who share the road with us. It can be difficult to be cognizant of that fact 100 percent of the time when we are behind the wheel.
Unfortunately, all it takes is a brief moment of distraction before we make a mistake that costs us or someone else dearly."…
---
RT Eugenia Ambrozaitis @ReconGeniTPS Math don't lie. As a Recon expert in Court I use relatable terms to describe distances Don't drive distracted
https://pbs.twimg.com/media/CkWpQv2WYAA9ds-.jpg


---
RT KIWA Radio @kiwaradio Drivers: Watch Out For Blinding Sun Straight Ahead http://fb.me/8buEOz1cx


"Twice each year, with the arrival of spring and fall, Iowa motorists need to be particularly careful when driving at sunrise and sunset.

Gail Weinholzer with Triple-A-Iowa, says the sun could be blinding during the morning and afternoon commutes for the next few weeks, especially since the sun is lined up almost directly with east-west roads."…
---
RT Katia Osokine @KatiaOsokine: My anecdotal evidence: main cause of downtown rush-hour gridlock is drivers entering the intersection when they can't clear it
>@KatiaOsokine And the inability to turn because of pedestrian traffic.

---
RT CBC Toronto @CBCToronto 1,083 pedestrians and cyclists have been hit by vehicles since June, urban planner says http://bit.ly/2doka2T
>@CBCToronto And that's only in Toronto.

"An urban planner says Toronto is facing a "public health epidemic," after 1,083 pedestrians and cyclists were struck by cars since June.
Cars hit 542 pedestrians and 541 cyclists over 112 days — an average of nearly 10 collisions a day.
"Regardless of who's at fault, something has to change here," Kyle Miller told CBC's Metro Morning Friday..
Those numbers are higher than for the same time period last year, when cars struck 474 pedestrians and 525 cyclists, according to figures from Toronto police."…
---
A factor maybe, but responsible? >
Sun Glare May Have Been Responsible After Teen Struck in Arlington | Patch
"Intense sun glare may have been to blame after a 15-year-old girl on her way to school was struck by a vehicle, police say.
The girl, who was struck in the 5100 block of Lee Highway, was taken to George Washington University with serious but non-life-threatening injuries. She was in the crosswalk at the time of the accident, which happened at around 7:36 a.m. on Sept. 22"…
---
RT NRSPP @NRSPPaus Pedestrian safety needs to catch up to technology and put people before cars http://theconversation.com/pedestrian-safety-needs-to-catch-up-to-technology-and-put-people-before-cars-65225 via @ConversationEDU


"One pedestrian is killed every two days on Australia's roads, the majority in metropolitan areas. While advances in safety systems and technology over past decades have greatly improved driver and passenger safety, there has been relatively little new technology to ensure the safety of pedestrians. Even current innovations to improve pedestrian safety are still designed from a car-centric approach.
In many places walking is significantly more dangerous than travelling by car, despite mostly separated facilities and slower speeds than any other mode of travel. Worldwide, more than 270,000 pedestrians lose their lives on roads each year – 22% of all road traffic deaths."…
---
Worldwide, 270,000+ pedestrians lose their lives each yr - 22% of traffic deaths. https://t.co/sKHZ4A1K8B via @ConversationEDU


---
Sun glare reportedly caused truck crash that closed part of U.S. 24 near Peyton | via @csgazette
"The sun got in the eyes of a driver whose cement truck crashed into a cement barrier on U.S. 24 just east of Peyton, spilling about 50 gallons of diesel fuel on the road and causing major delays, Gazette news partner KKTV reported.
The single-vehicle crash near mile marker 322 was reported just after 7 a.m., the Colorado State Patrol said."…
---
Cheers, Ralph