The following relate to the dangers of sun glare while driving, and traffic safety in general. They were derived from our twitter feed @SunPosition
---
Roundabouts making their way to Ontario but do drivers know how to use them? | via @CityNews
"They're popular all across Europe and now roundabouts are starting to make their way to Ontario.
The city of Clarington is among a growing number of municipalities adding two-lane roundabouts to their city streets.
"The biggest reason for the roundabouts is safety," Ron Albright, Clarington's assistant director of engineering services, explained. "When you have a green light, you're going at the posted speed, which could be 60 or 80 kilometres an hour. For a roundabout, … essentially you're slowing down to 20 or 30 kilometres an hour, so even if there is an incident, it's less severe."
Three new roundabouts have been installed on Holt Road at Highway 401 in Bowmanville to help keep traffic moving outside the Darlington Nuclear Power Plant."…
---
A lot of nuts, bolts, rivets and welds hold a car together, but the least reliable is the nut behind the wheel.
---
Police: motorcyclist blinded by sun crashes into bicyclist | centralmaine.com
"A bicyclist was taken to Franklin Memorial Hospital in Farmington on Tuesday afternoon after he was struck by a motorcyclist who was blinded by the sun, police said.
The motorcyclist, Gary Fleury, 52, of Livermore, was riding a 2007 Harley-Davidson around 3:45 p.m., heading north on Pond Road, when the crash happened, according to Patrol Officer Derek Daley.
A bicyclist, a man whose identity and medical condition were not released by police, was traveling south on Pond Road.
Fleury turned into a residence off Pond Road and hit the bicyclist, whom he said he didn't see because of sun glare, Daley said."…
---
RT @DriveSmartVAU: Traffic deaths have reached 'crisis' level https://t.co/wlvZRbOj2K 1.25 million deaths a year globally.
"U.S. traffic deaths jumped 10.4 percent in the first six months of 2016 to a "crisis" level, the U.S. National Highway Traffic Safety Administration (NHTSA) said on Wednesday.
NHTSA said road deaths in the first half totaled 17,775 and said the number was likely to be higher in the second half due to warmer weather and seasonal driving."…
---
"sun glare may have been the reason" >
Daughter witnessed fatal crash in Garfield Heights | cleveland19.com
"Tiffany Montgomery's 7-year-old daughter just missed being hit by a car when her mother and 5-year-old sister were fatally struck in a crosswalk in Garfield Heights Saturday."…
Garfield Heights City Councilman Michael Dudley Sr. said the driver of the car appeared to be distraught and that sun glare may have been the reason for the accident.

"They were crossing in the crosswalk and appeared to have the right of way. The other vehicle stopped coming up on E. 131st, but the other vehicle came out of Rexwood and proceeded to turn. The video looked like there may have been glare by the sun," said Dudley."…
---
It's that time of year again, be more careful >
Sun Glare Causes Wreck and Traffic Delays On I-80 | WYO4News
"According to Trooper Duncan with the Wyoming Highway Patrol, law enforcement was alerted to the crash at about 8:02 a.m.
One fully-loaded commercial truck pulling a trailer was traveling slowly—around 30 miles per hour—in the right lane with flashers activated. Another truck came upon the slow traveling truck and was unable to see due to sun glare, causing a rear-end collision."…
---
Sun glare prevented driver from seeing buggy >
BABY EJECTED IN CAR-BUGGY CRASH | am1160 WCCS
"State Police in Punxsutawney say a passenger car-slash-horse and buggy accident last Thursday morning in North Mahoning Twp resulted in a 3 week-old-infant being transported to the hospital.
Investigators say the accident happened as 69-yr-old John Polling of Punxy was driving on route 954 North when sun glare prevented him from seeing the horse-and-buggy rig in front of him. Polling hit the back of the buggy, driven by 22-yr-old Ivan Miller of Smicksburg, causing the infant to be ejected from the rig. Another passenger in the buggy, 20-yr-old Sara Miller was not injured."…
---
Another car-buggy crash due to sun glare >
State Looking to Increase Slow Moving Vehicle Awareness | Finger Lakes Daily News
"Last month, a Mennonite school teacher was seriously injured when the horse-drawn buggy she was riding in was struck from behind by a car traveling 45 miles per hour on Havens Corners Road in Yates County. The driver of the vehicle told law enforcement he was battling sun glare when he struck the buggy shortly after 7 the morning of September 19th. Sheriff Ron Spike said they've had several similar accidents within the county this year."…
> Perhaps avoid driving buggies during first and last hour of daylight. Not likely popular idea, but would save lives. https://t.co/BVtIWIm9I8
---
"can take 6 to 7 seconds to adjust to glare" >
Passenger says sun might have been factor in Monday crash | The Gadsden Times
"A Fort Payne woman was seriously injured in Monday morning's crash on Meighan Boulevard at Henry Street, and the sun's glare may have been a contributing factor, based on what a passenger told police.
The woman was driving a Chevrolet Suburban eastbound on Meighan, with her daughter and her daughter's boyfriend in the backseat. As they approached the intersection, the boyfriend heard her say, "I might as well be driving blind," and she flipped the sun visor down. He did not know if the traffic signal was red or green. A few seconds later, the SUV collided with a box truck full of mail that had been traveling north on Henry Street. The truck driver told police the traffic signal turned green and when he pulled out, other vehicles had stopped, but the SUV collided with the truck."…
"Gadsden Police Sgt. John Hallman said the crash report notes what those involved in the wreck told officers, but no determination has been made about what led to the crash.
Hallman said most people are aware of the potential glare problems on their daily commute.
"You know where the blind spots are," he said. "When I crest a certain hill on my way to work, especially at this time of year, I'm fighting the glare."
With the driver in the Monday morning accident being from Fort Payne, there's no way to know how familiar the route and the effect of the sun would have been to her.
National reports indicate glare can be a prevalent cause of auto accidents, whether from sunlight or the lights of an oncoming vehicle.
According to research reported on mainland.cctt.org, the average middle-aged person's eyes can take 6 to 7 seconds to adjust to glare from oncoming traffic. At a speed of 40 mph, in 6 to 7 seconds, a driver and vehicle would have traveled between 354 and 414 feet.
That's a long way to drive blind or seriously impaired.
According to AAA, the sun can hit drivers right in the eyes just after sunrise or before sunset, causing a glare that can make it harder to see the road ahead, or traffic signals and potentials hazards. When sun glare is an issue, AAA recommends slowing down and using extra caution.
AAA offers these tips for motorists when driving into the sun:
• Invest in polarized sunglasses; they can help reduce glare.
• Utilize your sun visor; it can help to block out the sun.
• Leave more following room; when the sun is in your eyes, it can be hard to see what the car ahead is doing. This is one more time when it pays to leave more room between you and the next vehicle.
• Drive with your headlights on to increase your visibility to other drivers
Additional tips:
• Keep your windshield clean, inside and out.
• Check your windshield for pitting and cracks.
• Avoid storing papers or other items on the dashboard.
• If you are having a difficult time seeing the road, use lane markings to help guide you."
---
Be extra careful this time of year, another left-turn crash due to sun glare >
Minor injuries reported after four-car accident on Sound Avenue | Riverhead News-Review
"Multiple people were treated for minor injuries following an accident on Sound Avenue Tuesday that involved four vehicles, Riverhead Town police said.
A car headed westbound on Sound Avenue attempted to make a left onto Northville Turnpike but the driver didn't notice an oncoming car because of the late afternoon sun glare, police said. The cars collided at the intersection and two more vehicles rear-ended the cars, police said."…
---
Avoid Crashes This Fall By Following These Safety Tips | Bernard Law Group
…"Another important safety step all drivers should follow during fall to avoid crashes is to avoid sun glare. After the autumnal equinox, the first 15 to 45 minutes after sunrise and before sunset can make it harder for drivers to see what's ahead, mostly because of the sun glare. Have a good pair of sunglasses at hand for the daytime so the issues associated with sun glare are avoided. The National Weather Service also urges drivers to keep their windshield clean."…
see more - https://t.co/kA2U4Rf0rb
---
Sun glare a factor >
City worker charged in connection with fatal crash in Lethbridge | CTV News
"Lethbridge police have charged a city employee in connection with a crash that claimed the life of a 72-year-old man in November 2015.
At just after 3:30 p.m. on November 13, 2015, emergency crews were called to the scene of a crash in the westbound lanes of Whoop Up Drive near the exit of University Drive.
Upon arrival, they found a Pontiac Montana minivan crashed into the back of a City of Lethbridge case loader that was in the process of removing snow from the road.

The 72-year-old driver of the minivan needed to be extricated from the wreckage and was taken to Chinook Regional Hospital where he later died.
The driver of the case loader was not injured.
Alcohol and speed were ruled out as factors in the crash, but a further investigation found that sun glare, the driving pattern of the loader and a lack of proper safety equipment including signage and a pilot/block vehicle contributed to the crash.
As a result, Lethbridge police have charged Scott Edward Erickson, 31, with one count of dangerous driving causing death."…
---
Pedestrians and cyclists, if your shadow points toward oncoming traffic, assume drivers can't see you. Better safe than sorry.
---
Sheriff's urges driver safety with season change | via @marthaeconway
…"Avoid Sun Glare:
With the end of Daylight Savings Time comes reduced visibility. Even on familiar roads, it is important that you use additional caution and adjust your driving habits to the different morning or late afternoon glare from the sun. It can cause reflections off vehicle windows and hoods and can decrease your visibility considerably."…
see more - https://t.co/HoUZJvo86R
---
Sun glare may have played role >
Woman hurt in collision with bus | The Westerly Sun
"A woman was taken to the hospital with injuries and several middle school students got a late start to the day Monday after a Chevy Sonic struck the back of a school bus along Route 3.
Westerly police, fire and ambulance officials were called to the scene just before 7:45 a.m. in the area of 47-49 Ashaway Road. According to a preliminary report, an unidentified woman was traveling north along Route 3 when she struck the bus as it was preparing to stop to pick up a child."…
…""We extricated one female passenger who was alert, but appeared to be pretty shaken up," said Westerly Fire Chief John Mackay. "It appears sun glare may have played a role, but we are still investigating what happened." "…
---
Allstate Burbank: Driving Safety Tips for Fall & Winter | Allstate Burbank
…"Sunlight Glare
Days start to become shorter in the fall, and you may find yourself commuting during the sunrise on your way to work and during the sunset on your drive home. The glare from the sun will drastically impair your vision, putting you and other drivers around you in danger. Make sure you own a pair of sunglasses to keep in your car that will protect your eyes from any glare helping your own safety on the highway as well as prevent damage to your eyes. Your commute will also become noticeably darker sooner even before daylight savings time which means your car light's need to be checked for maintenance and replacements as well."…
see more - https://t.co/wi7OyGsbN2
---
Leave extra room in sun glare >
1 injured in car versus motorcycle accident | via @TheRecorderNews
"One person was taken to the hospital after a motorcycle rear-ended a car on North Hillside Road Tuesday afternoon.
Deerfield Police Sergeant Harry Ruddock said the accident happened just after 3 p.m., adding that the driver of the motorcycle had minor injuries, and the driver of the car had none.
He said both vehicles were traveling in the same direction down North Hillside Road toward Routes 5 and 10, when the driver of the car was blinded by sun glare, and rapidly slowed down faster than the motorcycle could stop."…
---
Sun's Glare Contributes to I-24 Ramp Crash | West Kentucky Star
"A two-vehicle accident on the Exit 11 on-ramp to Interstate 24 was apparently caused by sunlight obscuring the vision of drivers.
A McCracken County Sheriff's Deputy responded to the accident on the eastbound I-24 ramp at Husband Road at 7:15 am, and found that traffic was stopped because the crash had caused a car to catch on fire. The car's driver, 29-year-old Haley Talbert of Paducah, was out of the vehicle and reportedly had only minor injuries. She said she was merging onto the interstate but the sun was in her eyes and she didn't see a pickup truck in front of her that was also merging into the eastbound lane. The driver of the truck, 74-year-old Jerome Weitlauf of Paducah, told deputies he was slow in merging because the sun was in his eyes, and he was struck from behind."…
---
We have plane crashes and train wrecks - but car 'accidents'?? Stop using the A-word.
---
Halloween Safety Tip: Sunset on Oct 31/16 in Barrie is at 6:09 PM.
---
Motorists should be warned about blinding sun | Lethbridge Herald
"Letter to the Editor
With reference to the traffic fatality on Whoop-Up Drive involving a city snow-removal vehicle.
I was travelling west in the centre lane and passed the accident scene seconds after it happened. At the time, I was facing directly into the sun and my forward vision was completely blinded. I was creeping forward afraid if I stopped, this would cause a chain reaction.
The driver of the other vehicle would also have been blinded by the sun and would have never seen the city tractor nor would he have seen pylons or signs.
Every year on this date the setting sun is perfectly aligned to shine directly into the eyes of motorists travelling up the westside hill.
I would suggest the city make a notation of these dates and place a warning sign ahead of time warning motorists of the possibility of a total blinding situation.
Mel Godlonton
Lethbridge"
---
Happy Halloween. Here are some sunset times for tonight. Be seen, be safe.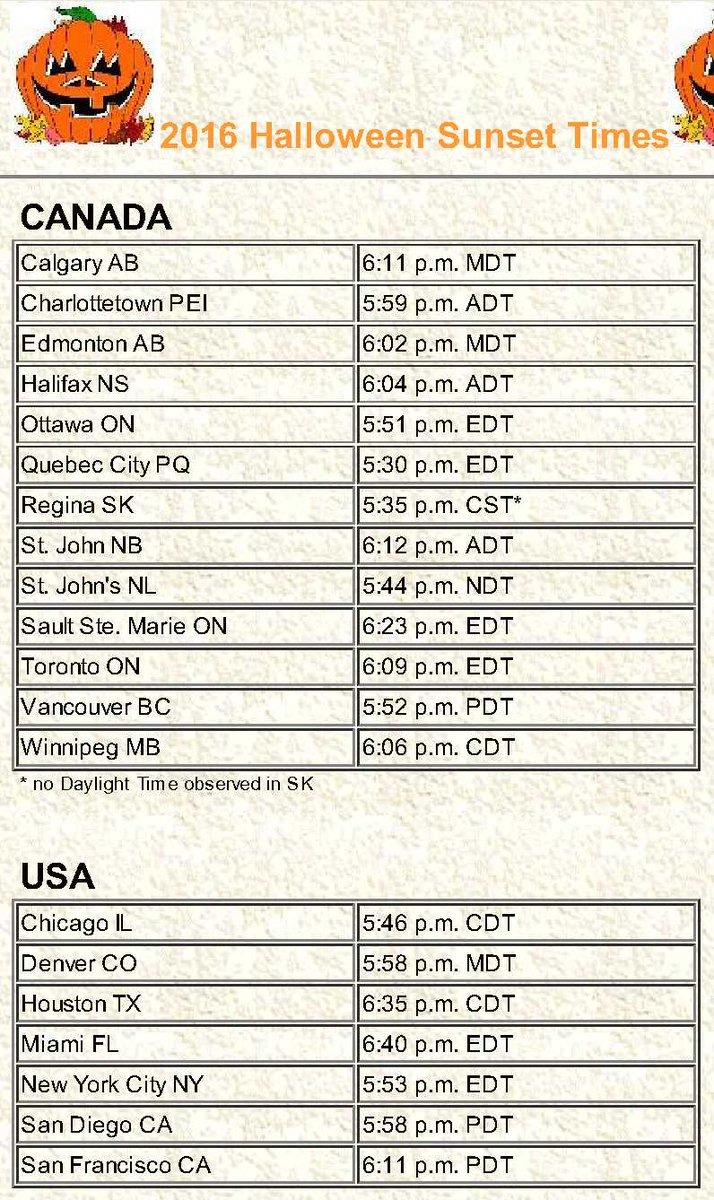 image via sunposition.com
https://t.co/lF7S2rJ0vt
---
Cheers, Ralph