The following relate to the dangers of sun glare while driving, and traffic safety in general. They were derived from our twitter feed @SunPosition
---
Sun Glare May Have Been Factor In Rear-End Crash That Claimed The Life Of One Student | Lawsuit Financial Corporation
"While many of us may think of driving in weather conditions such as rain, snow, or fog, as potentially dangerous, this does not mean we can be less attentive when driving on a clear day. Driving on a sunny day can also create a dangerous, and sometimes deadly situation if the driver's view is compromised by the glaring sun.

A 7-year-old girl was killed and ten others injured when an East Texas school van was rear-ended by a pick-up truck. According to reports, the van was struck while it was stopped to pick up children. Authorities believe the truck driver may have been blinded by the sun while coming over a hill and upon the stopped van.

Glare is not only a problem when motorists are driving into the sun; many motorists will run a red light because of the sun glare. Irrelevant, glares should never come as a surprise; we all know the sun comes up and it goes down. So how can you protect yourself and others on the road when driving into the sun?

AAA offers these tips:
Keep your windshield clean, inside and out.
Wear quality sunglasses with polarized lenses and UV protection to help reduce the glare.
Utilize your sun visor – it can help to block out the sun.
Leave more following room – when the sun is in your eyes it can be hard to see what the car ahead is doing.
Turn headlights on so oncoming motorists can see you as they're driving toward the sun.
Drive slower, even below the posted speed. It's against the law to drive at speeds in excess of road conditions.
Use the same precautions and care as driving in other hazardous conditions, like fog or rain. If you can't see, don't drive.
If possible, change your driving route."…
---
Drivers warned to stay safe from low sun glare | Gloucestershire Live
"Drivers are being warned to protect themselves from low dazzling winter sun.
At this time of year, the glare from the sun can be a danger to drivers.
Being blinded, even if just for a couple of seconds, is still enough time for an accident to occur. Remember that even if the dazzling sun is behind you, then it could be affecting the people travelling towards you.
There are some precautions that you can take to protect yourself.

Here are some tips."…
Read on… https://t.co/JXHuXjqnSS via @GlosLiveOnline

---
This past November a busy month for crashes involving sun glare
---
Another left turn and sun glare crash - so dangerous >
Two Children Injured In Omaha Crash | NewsRadio 1110 KFAB
"Two children were injured, one critically, in a two vehicle crash near 103rd and Blair High Road around 8:30 Monday morning.
The Douglas County Sheriff's Department says an eastbound SUV was heading toward I-680 and collided with a westbound van that was making a left turn onto 103rd Street.
Investigators say sun glare may have been a factor in the crash."…
---
Sun glare may have led to collision >
Serious injuries reported in crash at 103rd and Blair High Road | KETV
"Two children suffered serious injuries in a crash Monday morning near 103rd Street and Blair High Road.
The Douglas County Sheriff's Office says sun glare may have led to the collision.
"The unfortunate thing with this road, especially at this time of the year, [is] you're driving right into the sun when you're driving eastbound," Capt. Eric Sellers said.
---
RT @KevinFrankish: Ever wonder why so many people on the road drive without lights at night? You may be one of them and not even know it.
> Great post @KevinFrankish. People simply need to know their vehicle. Not all headlights/tail lights are automatic. Just check!

---
Sun glare could be cause of deadly Harnett County wreck, troopers say | via @WRAL
"One person died Thursday morning in a two-vehicle Harnett County wreck, authorities said.
The crash happened around 7:30 a.m. near 1653 Sheriff Johnson Road, Lillington. Troopers with the North Carolina State Highway Patrol said a driver of a black vehicle ran a stop sign and crashed into a silver vehicle at the intersection."…
"Troopers said sun beaming into the black vehicle's windshield could have been the cause of the wreck."
---
New School Route Safety Measures Planned by City of Hillsboro, Hillsboro School District | Oregon Live
"School route safety has been an ongoing priority for both the City of Hillsboro and the Hillsboro School District. The City and School District are working to enhance protection near two Hillsboro schools in response to recent vehicle collisions involving pedestrians and a bicyclist.
At the intersection of SE Johnson Street and SE 75th Avenue, near Ladd Acres Elementary School, students and parents will see several safety improvements. The crosswalk of the intersection is where a mother and her two children were struck by a vehicle in September in a collision the driver attributed to sun blindness:
No parking signs have been added to reinforce visibility at the crosswalk.
Stencils will be added to the roadway to alert approaching drivers that they are approaching a designated "SCHOOL" crossing.
City employees and School District staff will continue to evaluate safety needs to ensure signage is visible and no other action is necessary. While City staff do not believe that a rapid rectangular flashing beacon (RRFB) would have prevented the sun blindness issues cited by the driver in the September crash, City employees will continue to work with School District staff to assess safety needs here and throughout the city in determining a prioritized list for future RRFB installations.
Less than a mile away, at the intersection of SE Frances Street and SE 74th Avenue, near Brown Middle School, students and parents will also see several safety improvements. The intersection is the site of a similar collision in September in which the driver attributed the accident to fogged windows and sun glare:
The existing school zone will be moved further to the west and the existing flashing beacon will be moved in front of the crosswalk at Francis Street and 74th Avenue. This will reduce drivers' speed at this crosswalk to 20 miles per hour.
The Hillsboro School District will reposition a crossing guard from Cornelius Pass Road to 74th Avenue during the morning commute and evening release at Brown Middle School.
Stencils will be added to the roadway to alert approaching drivers that they are approaching a designated "SCHOOL" crossing.
City employees and School District staff will continue to evaluate safety needs to ensure signage is visible and no other action is necessary.
The City and School District will collaborate on educational materials for students and parents that describe safe walking, biking, and driving behaviors. One of the central messages of the materials will be the importance of being alert and aware, and not making assumptions about visibility and safety at crosswalks."…
---
Driver charged, passing in sun glare >
One woman injured in Ohio 13 crash | Mansfield News Journal
"One woman was injured in a two-vehicle crash at Ohio 13 and Ohio 96 Thursday afternoon.
Brian Maiyer, 47, of Mansfield was driving a gold 2005 Chevy Equinox south on Ohio 13, and a 54-year-old woman from Wellington was driving a green 2006 Hyundai Elantra north on Ohio 13.
Trooper Duane Hunsicker with the Ohio Highway Patrol said the woman's first name is Lisa, but declined to give her last name.
Hunsicker said Maiyer tried to pass a vehicle in front of him, going left of center, and could not see the woman's vehicle due to sun glare. The woman tried to swerve her vehicle out of the way, but the vehicles collided just after 3 p.m., according to the Ohio Highway Patrol."…
---
RT @ONtransport: In 2013, 39% of drivers killed on Ontario's roads had drugs in their system. #DriveSober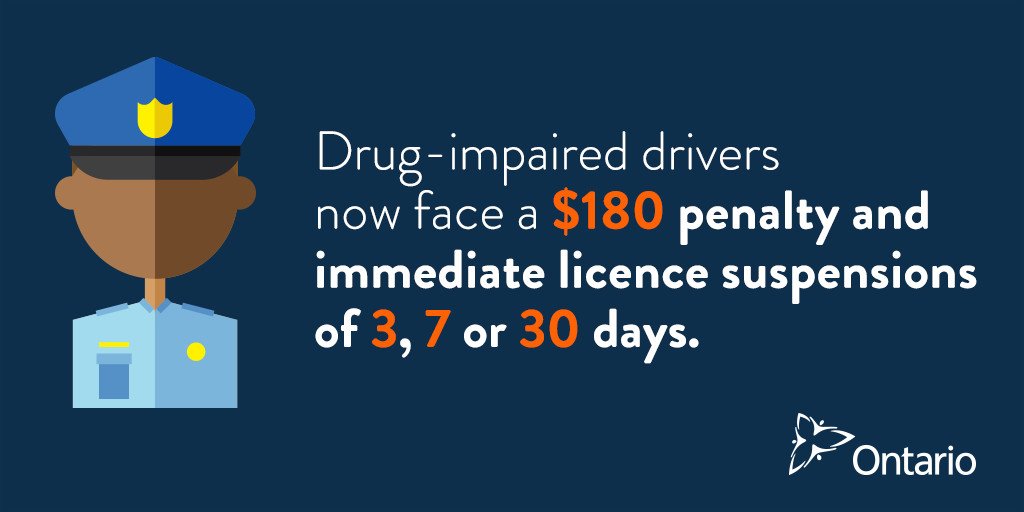 image via @ONtransport https://twitter.com/ONtransport/status/806921647064252417
> RT @ReconGeniTPS: I suspect that these drug-related #collision #statistics will be on the rise soon: weed & drivers just don't mix! #Recon #driveSober #fatal4
@ReconGeniTPS Can't you charge impaired with or without a 'number'?

> RT @ReconGeniTPS: @SunPosition Yes, impaired driving charges may be laid based upon driving observations & driver behaviour. Need reasonable probable grounds to arrest 1st

> @ReconGeniTPS Good, that's what I thought. Tough to prove in court though? What's the success rate for convictions?

> RT @ReconGeniTPS: @SunPosition Don't have data on conviction rates but it's dependant upon officer explaining their grounds to arrest. Plus in-car video helps a lot too!
---
Legally Speaking: Blinded By The Light | via @velonews
"Roadies are used to hardship; it comes with the territory. We ride countless base miles, grueling workouts, before sunrise and after sunset and all hours in between — often in extreme weather conditions — to prepare for the race where we finally put all of our training on the line.

This makes us tough and fit, but it can often put us in harm's way, sometimes without us even realizing the danger — one of the greatest hazards cyclists may face is the rising or setting sun. In fact, two cyclists I've raced with have been lost to the sun's blinding glare."…
---

"16.4 percent of all crashes caused by "atmospheric conditions" are the result of blindness due to sun glare"
---
Left turn + sun glare >
Police urge caution after Lowell pedestrian crashes | Lowell Sun
"In a week that has seen four separate incidents of people being struck by motor vehicles, officials and safety experts urged drivers and pedestrians to exercise caution on the roads."…
"A 19-year-old driver was turning left from Arcand Drive to Father Morrissette Boulevard when, she told police, she was blinded by sun glare and struck a 70-year-old man who was walking. The driver had a green light at the time, police said, and the man suffered a minor head injury.
Glare can pose a challenge to drivers, especially during winter months when the sun is lower on the horizon and shines directly through the windshield into drivers' eyes, said AAA spokesman John Paul."…
---
Cheers, Ralph