The following relate to the dangers of sun glare while driving, and traffic safety in general. They were derived from our twitter feed @SunPosition
---
Does daylight saving time increase number of crashes? | The Coloradoan
"If you dislike daylight saving time, you're not alone. And it turns out, science might back you up.
We're all familiar with the dreaded "spring forward" that meant two weeks ago we were an hour short on sleep, and, in many cases driving to work in the dark and driving home straight into a blinding sun glare.
A 2014 study from a researcher at the University of Colorado found the changes in light as well as drivers running on less sleep correlated with higher rates of traffic crashes. That increased risk lasted for the first six days after the spring daylight saving time change."…
---
Glare from setting sun blamed for crash that injured a Hawick woman | West Central Tribune




"A Hawick woman was injured in a one-vehicle accident Thursday night on state Highway 23 and County Road 33 near Paynesville.
According to the State Patrol, at around 7:30 p.m. Betty-Jane Povilatis, 36, was driving a 2013 Chevy Equinox west on state Highway 23 when she was blinded by the setting sun and ran off the road."…
---
Sun causes multiple car accidents | KHGI
"Two separate car crashes Tuesday morning at approximately the same time, but reportedly, one cause.
According to the Kearney Police Department and scanner reports, the blinding sun was the culprit behind both accidents, one resulting in injury.
A fender bender happened near the intersection on 29th Street and 7th Avenue. Kearney P.D. says the sun blinded a driver, who then rear–ended a vehicle.
The second crash involved multiple cars, near the intersection of 39th Street and 28th Avenue.
According to the scanner, the sun's reflection off glass may have caused the crashed, resulting in injury."…
> Crashes can be caused by not only direct sun, but by reflected sun as well.

---
Blinding morning sun blamed in fatal car versus motorcycle accident | via @thevalleynews


"A motorcyclist died Wednesday morning, April 12, after he was struck from behind by a driver who said she had not seen the motorcycle before smashing into it. The driver told investigating officers she had been temporarily blinded by the morning sunlight and never saw the motorcyclist prior to the impact."…
---
Police: Sun glare a factor in crash that killed woman on Quinnipiac St. in Wallingford | via @FOX61News

"A woman was killed Monday morning after she was hit by a car in Wallingford."…
"Police said the driver of the car stayed on scene and that sun glare was a factor in the fatal accident."…
---
Glare forced planes to change formation before fatal crash, report says | WKMG
"A sun glare forced a change in formation moments before two planes collided in midair on April 1 in Edgewater, according to a the National Transportation Safety Board.
The NTSB released a preliminary report on Tuesday detailing the crash that left Cessna pilot Gary Somerton, 57, and Grumman pilot Anne Edmonson, 66, dead.
Five pilots left Spruce Creek Airport in Daytona Beach at 8:39 a.m. to go to the Arthun Dunn Aiport in Titusville to attend a monthly breakfast event. They formed a V shape, but then the flight leader suggested a change in formation because of a glare.
"Due to the position of the sun, the flight leader decided to change to a left echelon formation where the airplanes would be arranged diagonally, to his left, with each airplane being stacked slightly low, behind, and to the left of the airplane ahead. This arrangement allowed the pilots to avoid the sun glare," the report read.
The collision happened as the planes were changing formation."…
---
Drive with extra caution in Toronto for first hour after sunrise for next week or so as sun lines up with eastbound streets.

---
Oh my! https://t.co/F8VICpFUL1

---
Interesting articles about the role of sun glare in traffic safety - https://t.co/uk4bMf7k9V


---
RT @suesgambati: Congratulations on your achievement @ProjectCRASH16 to promote safe driving @georgiancollege @Clarke4Orillia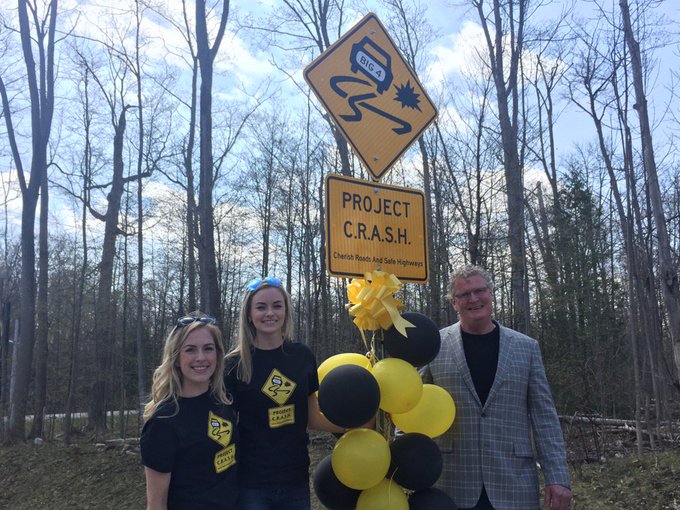 > @PCArsenault @ProjectCRASH16 @PCPappy @suesgambati @georgiancollege Great initiative @ProjectCRASH16

---
Detroit Ranked #1 in Pedestrian Fatality Accidents | The Michigan Law Firm
"Citizens of Detroit, Michigan have many gripes about the city including construction, decay, and of course traffic. While, the city itself is going though some improvements, citizens still have every right to be upset about traffic however, as the National Highway Traffic and Safety Association (NHTSA) just issued a report showing that Detroit has the highest pedestrian fatality rate per 100,000 population. In fact, the NHTSA calculates that in 2015 alone, 5,376 pedestrians were killed in traffic crashes - that's the highest it's been since 1996."…
---
Cheers, Ralph